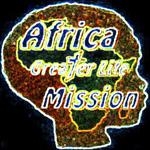 We at Africa greater life mission are dedicated to help disadvantaged children especially the AIDS orphans and help less children together with families in Uganda, Africa to overcome poverty and hopelessness.

The organization was formed to respond to the increasingly needs of the AIDS orphans (children whose parents have died of HIV/AIDS) and civil wars in my counntry, Uganda. We realized the children's plight needed an urgent attention and we could not just stand aloof and pity or sympathize with them, but must be helped in attaining their full human dignity.

As you are aware, AIDS continue to have a far greater impact on Africa than any other continent. Though Uganda has some promising results on the prevention of HIV/AIDS, its impact has taken away a generation of fathers, mothers, uncles, aunts, and friends. This iimpact of loss is going to be felt fo decades of years .A new generation of innocent orphans is left behind with no one to take care . The Ugandan extended family system, like many other developing countries, has been the core support provider for orphans, but AIDS, combined with other social and economic pressures has pushed the extended family system to breaking point especially in the worst affected communities here in Uganda.

Most of our children are AIDS orphans, many come from one-parent families and some come as "Street generation children", abandoned and abused, with so many needs. Poverty, illiteracy, neglect, emotional scars and poor health are common problems. We are providing long-term care (24/7/365) for these children, raising them to be contributing members of their own society.

The future of these children is our heart beat... And just telling these poor kids, "God loves you", may not make sense to them until we show them God's love wth a hot meal, change of clothes, safe place of sleep, a listening ear, and a warm hand on a trembling shoulder and of course above all giving them a chance to a constructive future through educational training. It is for these reasons that I am inviting you to partner with us to help these children and bring hope and long lasting smile on the faces of these children.

We will be very glad to hear from you soon.

Sincerely yours on behalf of the needy and neglected children of Uganda.
groups.msn.com/AfricaGreaterLifeMission
Status

Private Company

Founded

1995