m25m.org

Matthew 25: Ministries is a humanitarian aid and disaster relief organization headquartered in Cincinnati, OH. Matthew 25: Ministries serves the poorest of the poor and disaster victims domestically and internationally without regard to race, color, sex, religion, age, national origin, disability, or political belief. Our operational template is to work with partners who are local to the recipient area – already established in the recipient location, aware of the needs in the surrounding community and able to get that aid to the people who need it. Our on the ground partners provide us with feedback on what their needs are and we collect, process and provide aid that meets that criteria, packaged and prepared for rapid distribution upon receipt.

Matthew 25: Ministries is a product based organization with extensive experience in acquiring, processing and responsibly distributing humanitarian aid and disaster relief (more than 200,000,000 pounds to date) to people in need. Because we work with local partners, listen to those partners and give those partners what they want and need, organized and packaged for immediate use, our products are always welcome, appreciated and useful to the affected community.
Status

Private Company
Company History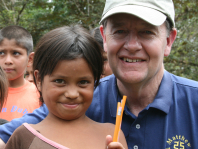 Matthew 25: Ministries began as the result of a trip Founder and President Reverend Wendell Mettey made with a group of doctors and nurses to Nicaragua in 1990. Pastor Mettey's years as an inner city social worker and pastor had done little to prepare him for what he experienced in Nicaragua during his visit. Upon leaving, Pastor Mettey made a promise to himself that he would find a way to help the people of Nicaragua. He developed an efficient system to rescue and reuse food, clothing, personal care, cleaning, medical and educational supplies which were deemed no longer useful by US standards and transport them to those in desperate need.

Over the years, Matthew 25's distribution activities have expanded to include partners in our local commuinity as well as partners throughout the United States and around the world. Since 1991, Matthew 25: Ministries has grown from a small group of dedicated individuals carrying supplies in suitcases to an international humanitarian aid and disaster relief organization distributing over 13,000,000 pounds of products and helping more than 18,000,000 people each year locally, nationally and internationally.