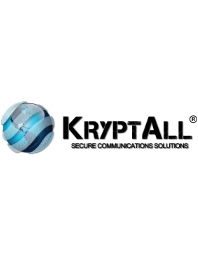 KryptAll for when you have something important to say.
We are experiencing an explosion of covert gathering of our phone records and calls. To counter the onslaught of eavesdropping, KryptAll introduced a patent pending, open source, high level, secure communication solution that guarantee's your privacy.
KryptAll provides user-initiated voice encryption technology for calls to anyone, to or from anywhere in the world, without generating a record of the outgoing call. The user's call cannot be intercepted or traced with the freedom to call anyone.
-Cannot Be Intercepted
-No Record of Calls
-Only One Device Required When the User is the Target
-Cannot Be Traced
-Secure Global Network
-Use Anywhere in the World
-Guarantees Privacy
KryptAll starts with a factory unlocked iPhone that is hardened with encryption firmware and secure network access software and sealed to resist and identify tampering making it a K iPhone. Depending upon your unique level of required security, standard Smartphone functions can be accessed and you can continue with your existing cellular network carrier to receive and make regular calls; however, when you select to call from KryptAll, the entire transaction is encrypted and unrecognizable to anyone trying to intercept the information. KryptAll employs a factory unlocked iPhone platform that can be used around the world on any GSM cellular data network without a carrier contract. It is also possible to use KryptAll over broadband WiFi without any cellular carrier.
When using KryptAll your call is encrypted and secure to the phone you are calling. The receiving phone does not need to be on a KryptAll phone when the calling party is the target of interception. When both parties use KryptAll it will provide 100% phone to phone encryption when making calls to and from each other. In addition, the quality and clarity of the KryptAll communication is outstanding, where no echoes or distortions are heard due to the technology used. KryptAll is available on eBay or direct from the company.