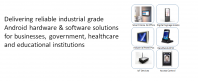 Geekland USA, LLC (
http://www.geekland.co
) is a privately owned and funded company established in Atlanta, GA, USA in 2010 with a focus on providing custom OEM/ODM contract design & manufacturing services for Android based devices that include
industrial panel PCs and HMIs
, digital signage systems, RFID readers/& tablets, embedded systems, access control and temperature scanner systems. Our mission is to help our customers to help develop, manufacture and market smart devices incorporating cutting-edge emerging mobile, display and IOT technologies to gain a competitive edge. In addition to providing ODM service, Geekland markets and distributes industrial Android tablets, rugged handhelds and digital signage systems within the US market.
Geekland works closely with its clients in understanding their business needs and defining a unique solution that best addresses their business needs at an optimal cost. Geekland offers end to end service to its partners from product design & engineering, rapid prototyping & product development, manufacturing & QA. We have full mechanical and industrial design capabilities including rapid prototyping and Injection mold development for end-to-end product design and manufacturing. We have deep experience in designing and building high performance and reliable Android OS based embedded systems including custom firmware development for specialized applications such as digital signage systems and cutting edge AR/VR and robotics.
Some of Geekland's clients using or trialing Geekland's solutions include Honeywell, Panasonic, Siemens, Dacor., Wesley Clover Solutions, Lifesystems inc, Nanobiosym, Compaq-filtration, Trane, StepGlobal, etc.
Some of our custom solutions that we have worked on include:
a) Android based next generation Trading turret - a PoE based high performance telephony conference system for wall-street traders.
b) Custom Android based display systems for hospitals that uses NFC and BLE to get data from various medical devices
c) An Android I.mx6 based custom embedded board and display system that is integrated in medical diagnostic device
d) High performance embedded boards for graphics intensive digital signage systems.
Geekland has considerable experience working with off shore manufacturing and distribution processes and has established strategic partnerships with reputed manufacturing companies in China & Taiwan. We have a dedicated hardware development center in Shenzen, China where we design and manufacture our hardware. We also leverage a manufacturing facility in West Palm Beach Florida that allows us to assemble & test some of our custom products for our customers requiring US assembly.
Feel free to contact us for your specific Android based product development requirements.
Atlanta Office:
1100 Peachtree Street, Ste 200,
Atlanta, GA-30309
support@geekland.co
Call us at 1 (877) 597-7673