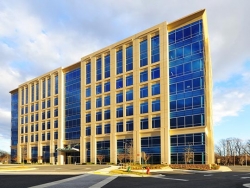 Austin, TX, March 15, 2013 --(
PR.com
)-- BusinesSuites, a nationwide operator of executive office suites, announced plans for a new location in Gaithersburg, Maryland, to open in June 2013. This will be BusinesSuites' eighth executive suite location in Maryland.
BusinesSuites Gaithersburg
will be located in the heart of Montgomery County at the Shady Grove exit off I-270. The center will be in the Summit at Washingtonian, a Class A, LEED Certified building adjacent to the Rio Washingtonian Center, Gaithersburg's premiere shopping and dining destination. BusinesSuites Gaithersburg will be minutes from the Shady Grove Metro station and will offer covered parking and direct access to I-270 via the exit 8 ramp.
"The Summit at Washingtonian is a great fit for our model of premium service executive suites and virtual offices. The center offers exceptional amenities and a location that is perfect for entrepreneurs, professionals, government contractors and even employees of Fortune 1000 companies in the Gaithersburg / Rockville area who want more flexible workspace options like executive suites and virtual offices," said John G. Jordan, President of BusinesSuites and Past President of the Global Workspace Association. "BusinesSuites Gaithersburg will offer part-time and full-time offices, team project rooms and conference rooms in a professional, upscale environment."
With over 60 offices including two large team project rooms and three meeting rooms, the center will provide full-service, furnished Gaithersburg office space, complete with live phone answering, business-class Internet, premium amenities plus access to meeting rooms and a café. The Summit at Washingtonian is a Class A, LEED Gold pre-certified building and includes an on-site fitness center and covered parking. BusinesSuites Gaithersburg will be available in early June with flexible terms allowing short-term and small space users an economic alternative to the long-term financial commitment of conventional office space. For clients who travel, BusinesSuites offers the opportunity to utilize the café, conference rooms and day offices at any BusinesSuites location across Maryland and Virginia or across the nation all as part of the BusinesSuites service package. BusinesSuites Gaithersburg will be the company's eighth location in Maryland and its 23rd location in the United States.
Montgomery County is one of Maryland's most populous counties and includes clusters of industries such as life sciences, IT, healthcare and hospitality. The county is home to global corporations such as Marriott International, The Ritz-Carlton Hotel Company and MedImmune, and is a center of world-class research and development with federal agencies such as the National Institutes of Health and the Food and Drug Administration (FDA).
About BusinesSuites
BusinesSuites is a leader in the workspace-as-a-service industry providing modern executive suites, virtual office services and shared workspaces at 23 locations in Texas, Nevada, Maryland and Virginia. BusinesSuites serves professionals, entrepreneurs and employees of large companies who need a professional work environment for their business. BusinesSuites offerings include private offices, virtual offices and team project rooms, and include services such as live phone answering, phone service, Internet, high speed copier/scanner, conference rooms, and a café/lounge. All BusinesSuites services are offered on-demand with flexible terms that allow clients to focus on running their business instead of running their office.
In 2009, BusinesSuites was named the US National Winner of the Dell/NFIB Small Business Excellence Award for its strong focus on hands-on customer service backed by innovative technology. In 2010, BusinesSuites was listed among the Inc. 5000's Fastest-Growing Companies in the US.
Founded in 1989, the first BusinesSuites location was established in Austin, Texas by Luci Baines Johnson and Ian J. Turpin.
For more information, visit http://www.businessuites.com/.