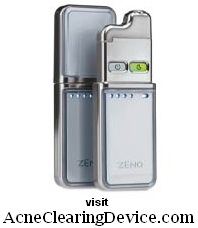 Your online source for the new FDA approved Zeno Acne Clearing Device. 90% of acne blemishes disappear within 24 hours!

You've heard about it, seen it on the covers of Cosmo, Allure, O, Cargo, and featured on the Today Show. Once a celebrity secret, is now available to you! The new FDA approved Zeno Acne Treatment Device.

Zeno is an acne clearing device. It's a hand-held, portable electronic medical device that is clinically proven to make pimples disappear within 24 hours. In fact, for treating acne pimples, it's the most scientifically advanced and effective device available without a prescription. Zeno is for people with mild to moderate acne.

It's designed with a tip that heats to a pre-set temperature, so when it comes in contact with your blemish, it zaps the acne causing bacteria away! The level of heat doesn't cause skin damage and it's a life-saver for those events where you need to be pimple free! (i.e. important business meetings, weddings, proms, birthday's, etc.)

For more information on how you can get Zeno, head over to http://www.acneclearingdevice.com

This is one gadget you've gotta get your hands on!
Status

Private Company

Founded

2005