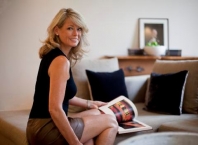 Nicky Clark Summer is a residential interior designer and event stylist.
She is founder of the City & Beach Lifestyle Awards, an annual event which supports new luxury brands and celebrates established brands such as Maserati, Moet & Chandon and Grey Goose.
Nicky's main interest is producing luxurious and comfortable home interiors at the top end of the international residential market, in particular in London, South of France and California.
Corporate interiors clients include Sotheby's International Realty, Grosvenor Estates, Beauchamp Estates, Strutt & Parker, Knight Frank and Hamptons International. Recent projects have included the homes of broadcaster and publisher Andrew Neil, property magnate and investor Jim Mellon, Australian businessman Steve Cosser, Harry Potter film director David Yates and footballer Claude Makelele.
Additional private interiors clients include those from the UAE, Australia, Russia, Turkey, Germany, France, Belgium and Hong Kong.
City & Beach Home interiors projects include the total rebranding and outfitting of the 47ft catamaran 'S/Y Wonderful', an apartment in Trevor Square, Knightsbridge, a house in Trevor Street, Knightsbridge, three Thames side apartments in Sir Norman Foster's luxury development Albion Riverside, a villa and grounds in Grasse, France, an apartment in Onslow Gardens, SW7, a listed townhouse in St James Street, a gothic mansion in Collingham Gardens, SW5, a converted house in Ennismore Mews, a contemporary house in Notting Hill designed by John Pawson, a 47th floor apartment in the development One Rincon Hill (San Francisco), the refurbishment of an Edwardian property at Datchet overlooking the Thames and the Queens estate at Windsor, three apartments and the entrance halls of the Georgian property located at 130 Park Lane and three large apartments in Eaton Square, SW1 for Grosvenor Estates.
Nicky Summer appears on the list of recommended interior designers produced by both The Swiss Chalet Company (www.swisschaletcompany.com) and award winning developers YOO (www.thelakesbyyoo.com)
Earlier this year Nicky formed the exclusive dining club 'Summer All Year Round' which was launched in Chelsea, London on the last Tuesday of January 2010 for 100 friends with Bryan Adams being one of the VIP guests.
Nicky launched an annual Lifestyle Awards for friends and clients in 2006 and winners have included royal couturier Jacques Azagury, the hotel 'Shutters On the Beach' (Los Angeles), Herbert Ypma of HIP Hotels and the broadcaster and publisher, Andrew Neil.
Nicky is currently working on a book and is extending the City & Beach Home own label luxury product line.
Nicky Summer and City & Beach press coverage includes
San Francisco Chronicle, FT/How To Spend It, YOU Magazine/The Mail on Sunday, TATLER, Evening Standard, Hong Kong TATLER.
WEBSITE: www.cityandbeach.com
EMAIL: info@cityandbeach.com
BLOG: www.nickysummerblog.com
TWITTER: www.twitter.com/nickysummer
RECENT PRESS: http://www.sfgate.com/cgi-bin/article.cgi?f=/c/a/2010/10/15/HOES1FLM1I.DTL&t
ype=homeandgarden
FACEBOOK PROFILES:
Nicky Summer
City & Beach Home
Summer All Year Round