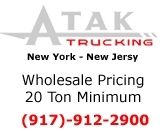 Wholesale suppliers of Building Materials & Construction Materials including Gravel, Pea Gravel, Sand, Stone, Dirt, Topsoil, Rock Salt and Aggregate materials to New Jersey & New York State Municipalities, Parks Departments, Builders, Landscapers, Masonry Suppliers, Paving Companies, Nurseries, and Private Contractors.
Call 917-912-2900 or Email us to receive a Free Quote on materials & delivery.
*Topsoil- Screened Topsoil, Unscreened Topsoil
*Dirt- Screened Dirt, Fill Dirt
*Rock Salt- Rock Salt
*Crushed Stone- Stone Dust, 3/8″ Stone, 5/8″ Stone, 3/4″ DGA, 3/4″ Stone, 1 1/2″ Stone, 2 1/2″ Stone
*Recycled Materials- 3/4″ Recycled Stone, 1 1/2″ Recycled Stone
*Gravel- 3/8″ Gravel, 3/4″ Gravel
*Sand- ASTM-C33, Bank Run Sand, Beach Sand, Fine Sand, Utility Sand, Mason Sand, Septic Sand, Concrete Sand
ATAK Trucking offers wholesale pricing and delivery of construction and landscaping materials in bulk to NJ and NY metro area including Staten Island, Brooklyn, Queens, Bronx, & NYC. Wholesale accounts are welcome.