ATAK Trucking Provides Sand for Shore-Themed NHL Draft Event
ATAK Trucking, a NJ sand supplier, trucked in tons of genuine NJ sand to create a shore-themed event outside of Newark's Prudential Center in conjunction with the city's hosting of the 2013 NHL Draft.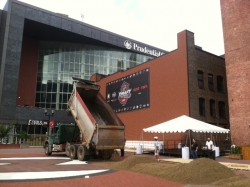 Matawan, NJ, July 17, 2013 --(
PR.com
)-- NJ sand supplier ATAK Trucking helped to create a shore-themed paradise outside of the Prudential Center in Newark, NJ during the hosting of New Jersey's first ever NHL draft event. The draft, which took place on June 30th at Newark's Prudential Center, featured FanFest, a festive weekend event created for fans of the draft that was sponsored by New Jersey Stronger Than The Storm.
FanFest was set up outside of the Prudential Center, in Championship Plaza, and was designed to evoke the feeling of the Jersey shore. Funded by the New Jersey Stronger Than The Storm marketing campaign, the goal was to remind people that the beaches in New Jersey are back in business, following the devastation they faced due to Hurricane Sandy in October 2012. The event included a makeshift boardwalk as well as approximately 34 tons of genuine New Jersey sand that were trucked in by the NJ wholesale sand supplier in order to build a faux beach outside of the arena.
In addition to a beach full of sand and accompanying boardwalk, FanFest sported a ferris wheel, boardwalk games of chance and an 18 hole miniature golf course. On the entertainment front, no New Jersey shore themed event would be complete without the sound of the original New Jersey boy, Bruce Springsteen, so a Bruce Springsteen cover band entertained event-goers throughout the weekend.
"We're pleased to be asked to supply NJ beach sand and sculpture sand used for 'recreating' the Jersey Shore right in the heart of Newark, New Jersey," explains ATAK Trucking owner Tom Torocco. "As a company that has long serviced businesses and homeowners in many of the areas hardest hit by Hurricane Sandy, including the Jersey Shore and Staten Island, it was a great feeling to be part of an event aimed at promoting the comeback of the areas in which we live and work, and seeing a beach set up right in Newark was truly a sight to behold."
This is the first time that the Garden State has hosted the NHL Draft. It was also a big step for Newark's Prudential Center, as well as the city of Newark and the state of New Jersey. Tens of thousands of people, comprised of hockey team personnel, journalists and hockey fans from around the world, visited Newark and had a chance to experience the make-shift beach and sculpture created by the NJ sand delivered by ATAK, as well as the other beach-themed pre-draft activities, spending money in New Jersey in the process. Additionally, many more experienced the festivities and the excitement of the draft via the media.
About ATAK Trucking:
ATAK Trucking, Inc. is a wholesale supplier of sand in New Jersey and Staten Island, as well as landscape materials, construction materials and masonry materials. In addition to sand, the company sells and delivers bulk quantities of gravel (and pea gravel), stone (crushed stone, recycled stone and stone dust), dirt, topsoil, rock salt and Belgian Blocks. Businesses serviced by ATAK Trucking include municipalities, contractors, landscapers, paving companies, nurseries and garden centers, landscape and masonry suppliers, parks departments and homeowners in New Jersey and Staten Island. For more information about buying rock salt in NJ and Staten Island, visit ATAK's website at http://www.ataktrucking.com or call 917-912-2900.
Contact
Atak Trucking
Tom Torocco
1-917-912-2900
http://www.ataktrucking.com
1341 Route 34, Matawan, NJ, 07747

Contact