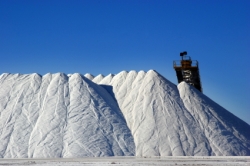 East Brunswick, NJ, December 18, 2010 --(
PR.com
)-- ATAK Trucking, a wholesale supplier of rock salt in New Jersey and Staten Island, as well as other building and landscaping materials, is pleased to announce the availability of winter rock salt supplies for the 2010 – 2011 winter season. ATAK offers bulk rock salt delivery in NJ and Staten Island with a 20 ton minimum purchase. They also provide convenient rock salt pick-up at their East Brunswick location for those in need of smaller quantities of rock salt at reasonable prices.
ATAK's rock salt prices remain unchanged since last year, a welcome change in an economy marked by continually rising prices. ATAK also gives consumers the option of pick-up or delivery service, depending on what is most convenient and economical to suit their purposes. Individuals located near their East Brunswick, NJ pick-up facility can opt to pick-up quantities of one ton or more of rock salt at the facility or rock salt delivery in New Jersey or Staten Island can be scheduled if larger quantities are needed. The NJ rock salt supplier offers the two purchasing options to satisfy varying needs.
Landscapers, snowplowing contractors or property managers needing less than the 20 ton minimum required for delivery can still obtain wholesale pricing at the East Brunswick pick-up location with only a one ton minimum purchase required. The rock salt is loaded directly onto the customer's truck, providing a competitively priced and convenient option for small business operators in the snow removal business. ATAK recommends that any customer requiring more than 20 tons of rock salt opt for bulk delivery, which is the most economical option for purchasing large quantities.
"We opened our pick-up location in East Brunswick last year to provide an opportunity for consumers to purchase high quality building and construction materials at competitive prices without the requirement of the minimum purchase quantities needed for direct delivery," explains ATAK's owner, Tom Torocco. "The same holds true when winter rolls around. We know that many people need rock salt to handle icy winter conditions, whether they are snow plow operators, small business owners or property managers. We offer small quantity bulk pick-up in our East Brunswick location for those that don't need a huge amount of salt but are still looking for convenient pick-up and reasonable pricing. For those that require larger quantities, we deliver rock salt in New Jersey and Staten Island at wholesale prices and provide flexible scheduling."
In addition to rock salt, ATAK Trucking has been offering wholesale pricing of building, landscaping and construction materials, such as sand, topsoil, gravel and stone, since 1986. They offer a convenient delivery service for quantities of more than 20 tons and have been servicing contractors, builders, landscapers, municipalities and parks departments, paving companies, property managers, and business owners for almost 25 years. Since the opening of their East Brunswick, NJ pick-up location last year, ATAK also offers the same high quality supplies in smaller quantities at reasonable prices to the general public. Rock salt supplies will be available from ATAK throughout the winter season.
About ATAK Trucking:
ATAK Trucking is a wholesaler supplier of rock salt in NJ, as well as other building and construction materials such as sand, stone, dirt, topsoil, gravel and aggregate materials. Rock salt can be picked-up in small quantities at their East Brunswick, NJ location or can be delivered throughout New Jersey or Staten Island with a 20 ton minimum purchase. For more information about buying rock salt in NJ and Staten Island, visit ATAK's website at www.ataktrucking.com or call 917-912-2900.