Building and Landscaping Materials Now Available for Pick-Up in East Brunswick, N.J.
ATAK Trucking now offers a location in East Brunswick, New Jersey for pick-up of small quantities of sand, stone, topsoil and other building, landscaping and construction materials.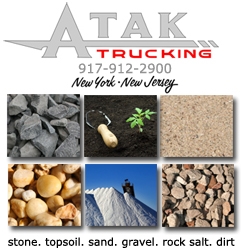 East Brunswick, NJ, July 06, 2009 --(
PR.com
)-- ATAK Trucking, a premier supplier of wholesale building materials, construction materials and landscape materials in the New Jersey and metropolitan New York area, is pleased to announce the opening of their new pick-up location for those requiring smaller quantities of materials. This new location and pick-up service is the perfect solution for the do-it-yourselfer, contractor or landscaper that requires high quality materials at competitive prices, but doesn't need a large quantity to meet their project requirements.
ATAK Trucking has offered wholesale pricing of building, landscaping and construction materials, as well as convenient delivery service for quantities of more than twenty tons of materials to contractors, landscapers, builders, municipalities, parks departments, paving companies and more since 1986. With the addition of their pick-up location in East Brunswick, New Jersey, ATAK is now making available a wide selection of sand, stone and topsoil materials to those who do not need such large quantities to complete their projects.
"Our new pick-up location allows individuals who are in need of construction and landscaping materials to obtain them at competitive prices, even if they don't require a large quantity," explains Tom Torocco, owner of ATAK Trucking. "In the past, we made our construction and landscaping materials available to those that required a minimum of twenty tons. By eliminating the minimum ordering requirements and offering a location where customers can pick up just the amount of material they need, we have opened up our business to individual contractors and landscapers, as well as do-it-yourselfers and weekend project warriors that now have a reputable place to go to obtain quality materials."
ATAK's new material pick-up location is located in East Brunswick, New Jersey, just off Exit 9 on the NJ Turnpike (I-95), and just under 1/4 mile from RT 18, making it easily accessible to customers in Monmouth, Middlesex, & Somerset counties of New Jersey, including, New Brunswick, South Brunswick, Edison, Sayreville, Perth Amboy, Old bridge, Hillsboro, Woodbridge, Marlboro, & Matawan area. The location offers a selection of sand, stone and topsoil that periodically changes, based on availability. Customers can simply figure out the quantity of materials they need for their job or project and can then call ATAK to determine if the materials they need are available for pick-up.
ATAK even makes it easy to determine the quantity of materials required for any job with their materials calculator, which is located on their website. The materials calculator is simple to use and allows users to enter the parameters of the area they are looking to cover or fill, including the size and shape of the area, as well as the depth of materials desired. The materials calculator then provides the user with the correct amount of materials needed for the project.
"During the years that we have been operating as a wholesale supplier of construction and landscaping materials, we have received many requests from people that have been interested in purchasing lesser quantities for smaller projects," says Torocco. "With the opening of our location in East Brunswick for pick up of smaller quantities of materials, we have now made it possible for individuals in New York and New Jersey to get the best quality materials at competitive prices."
About ATAK Trucking:
ATAK Trucking is a wholesaler supplier of building and construction materials, including topsoil, dirt, gravel, stone, sand, Rock Salt and aggregate materials in New Jersey and the metropolitan New York area. Their new pick-up location now offers the same quality and competitive pricing to those interested in obtaining smaller quantities of materials. Information about products and pricing can be found on their website at www.AtakTrucking.com or by calling 917-912-2900.
Contact
Atak Trucking
Tom Torocco
1-917-912-2900
http://www.ataktrucking.com

Contact