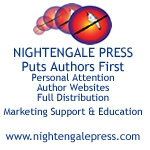 NIGHTENGALE PRESS CREDO: ABOVE ALL Put The Author's Needs First.
Through ease of production, nearly instant availability of worldwide publishing services today, authors receive publishing information, marketing training, one-on-one product development of their books, industry connectivity, online visibility, co-operative marketing opportunities, bookstore trade distribution, profit from their work, and a helping hand from the start.
NIGHTENGALE PRESS works with authors, editors and illustrators from all over the world to produce publishing-ready manuscripts, design covers and illustrate children's books, protect their work, and develop a marketing plan.
NIGHTENGALE PRESS offers a 100% ROI royalty structure so the author recoups publishing expenses and then enjoys a 50% - 70% royalty on sales. As a Vendor of Record with BARNES AND NOBLE, we submit all our titles upon publication to the Small Press Department at Barnes & Noble for consideration for shelf placement.
NIGHTENGALE PRESS books are available upon request in bricks and mortar bookstores nationwide, and are fully available online through author websites and the Nightengale Press bookstore, as well as at all the online booksellers.
NIGHTENGALE PRESS is part of NIGHTENGALE MEDIA LLC where authors can obtain from www.WEB4W.com stand-alone, websites for the best rates in the industry, which are dedicated to marketing their books to their niche markets as well as promotional book videos to be posted at www.YourBookTube.com. NIGHTENGALE PRESS authors earn 100% ROI royalties until their website and book video fees are recouped through sales.
Go to www.nightengalepress.com for complete information on Publishing Guidelines, Royalties, Contracts and more.