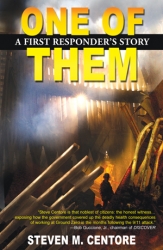 New Bern, NC, August 12, 2008 --(
PR.com
)-- Steven Centore, author of the new book One of Them: A First Responder's Story, was one of the many who volunteered to assist in the immediate aftermath of the attack on September 11, 2001, and then during the eighteen-month-long recovery efforts.
Mr. Centore's book has shed light on the neglect of the first responders and caught the attention of New York musician Paul Zunno.
"After reading One of Them, I felt compelled to raise awareness about the great sacrifice that was made by these men and women," says the musician.
In an attempt to get involved, Mr. Zunno recorded the new single "Hold Me Up" and teamed up with John Feal, founder and president of the FealGood Foundation, a non-profit organization created to provide financial assistance to first responders and educate the public about the effects 9/11 has had on their health.
"The attack didn't end on September 11," says Mr. Centore. "It continues to this day as first responders suffer from the aftereffects. It's almost like radiation poisoning after a nuclear attack—first come the initial victims and then, those who've been poisoned by the clouds of lethal dust."
As of today, the toxins at Ground Zero have affected:
• 4,517 people with upper respiratory ailments
• 3,857 with lower respiratory illness
• 398 with lung disease
• 2,616 with asthma
• 1,340 with sleep apnea
• 2,528 with heart conditions caused or worsened by 9/11
"And that's only what's been officially reported in medical records," says Mr. Centore. "There are a host of other ailments such as cancer, diseases affecting vital organs and mental health issues."
Mr. Zunno adds, "I'm a New Yorker and should have known about this much sooner. 'Hold Me Up' is probably one of the most personal songs I have ever written, and I wanted Steve, John and all of the responders to know that they have my support."
In an effort to assist Ground Zero workers, Mr. Zunno has decided to donate 100 percent of the profits from his new song (available for download on iTunes and CDbaby.com) to the FealGood Foundation. For more information, you can visit www.zunno.com.
"I think that if given the opportunity, most people would want to contribute to this cause," says Mr. Zunno. "Here's their chance to help while the political end of this gets worked out."
To learn more about how you can help, or to buy the breakout book One of Them: A First Responder's Story, visit www.SteveCentore.com or www.wadv-oneofthem.com. The book is also available on Borders.com, Amazon.com and BarnesandNoble.com.
For more information about One of Them: A First Responder's Story, contact Steve Centore directly at Scentore@yahoo.com.
Worldwide Association of Disabled Veterans, Inc. and author Steven Centore chose Arbor Books, Inc. (www.ArborBooks.com) to design and promote One of Them: A First Responder's Story. Arbor Books is an internationally renowned, full-service book design, ghostwriting and marketing firm.
(One of Them: A First Responder's Story by Steven M. Centore; ISBN: 0-9801274-0-8; $16.95; 208 pages; 5½"x 8½"; softcover; Worldwide Association of Disabled Veterans, Inc.)
###