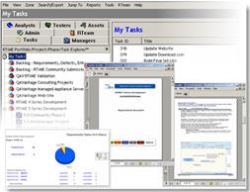 Red Bank, NJ, August 13, 2008 --(
PR.com
)-- QAVantage the only provider of a single Requirements Management and Delivery Assurance (RMDA) toolset that joins strategic software planning, prioritization and analysis with complete downstream requirements management and traceability today announced the release of RTIME™ version 5.0. RTIME™ delivers the collaboration, visibility and traceability teams need to minimize defects, reduce cycle times, lower costs and ensure technology project success. "With this release of RTIME™ we are making yet another major leap towards our vision of a truly simple software development lifecycle management tool by offering our customers integration with MindManager Pro® from MindJet®. Now our customers have a visual way for anyone in their organization to easily brain storm and capture requirements which can then be imported into RTIME™ for full lifecycle management," said Daniele Chenal COO of QAVantage.
Since 2002, RTIME™ has been helping customers address the common challenges of reducing cycle times, lowering costs and improving software quality. Selected by Centeon Solutions, IDRT and other leading firms over more complex and costly solutions, RTIME's™ superior usability and affordability ensures adoption by all Business and Technical stakeholders. "We are really excited about the new capabilities in RTIME™ 5.0., " said Mike Tillman, COO IDRT. "Being able to map out our requirements in MindManager Pro® speeds both the process of capturing our requirements as well as communicating them clearly across our internal and external team members. Equally importantly is once we import them into RTIME™ we can manage them through the entire development and delivery cycle."
New major features in RTIME™ 5.0 include:
- MindManager Pro Integration for visual requirement definition and import into RTIME™
- MyRTIME, a single user desktop version of RTIME. The industries only desktop version of an enterprise class SDLC tool designed for Business Analysts, Product Managers, Consultants and other individuals managing technology projects
- Enhanced reporting for complete task to requirement transparency
- Custom field auditing and incorporation into out of box reporting and excel export
Developed and enhanced through nearly a decade of real-world project endeavors, RTIME's™ feature-rich solution is available at a price point that any size organization can afford. Software vendors and commercial organizations alike will benefit from this database driven tool that has been integrated with standard Microsoft® Office applications to deliver a single, simple toolset teams can use to deliver better software faster.
About QAVantage
QAVantage, based in Red Bank, NJ with over 75 global customers, is a software and consulting services company that specializes in software lifecycle management. RTIME™, initially developed and used as a servicing tool in 1997 has been in production and commercially available from QAVantage since 2002. RTIME™ is a software solution used to plan, track and manage software projects including commercial software, off-the-shelf software roll-out projects and software application development and customization projects.
For more information on QAVantage or RTIME™, visit http://www.QAVantage.com or call 1-800-573-1983.
QAVantage, the QAVantage logo and RTIME are trademarks of QAVantage. All other trademarks are the property of their respective owners.
###