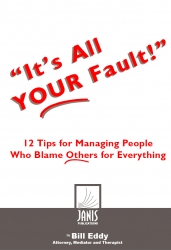 Santa Ana, CA, August 15, 2008 --(
PR.com
)-- Janis Publications Inc. announces it has published "It's All Your Fault!" – 12 Tips for Managing People Who Blame Others for Everything.
Written by author Bill Eddy, "It's All Your Fault!" is based on his experience working with High Conflict People (people with narcissistic, borderline, anti-social or histrionic personalities) for over twenty years. His "12 Tips for Managing People Who Blame Others for Everything" provide invaluable answers for keeping everyday problems in business, the workplace, human resources, family or neighborhood from escalating and becoming "high conflict" disputes.
Bill Eddy is a California based Attorney, Mediator and Therapist, and an author, instructor and international speaker to mediators, attorneys, judges, therapists and others. Mr. Eddy is president of the High Conflict Institute in Scottsdale, Arizona. His book High Conflict People in legal disputes © 2006 is now in its third printing.
According to Bill Eddy, blaming others is increasing in societies around the globe and there is a pattern in this blaming behavior, driven by people with certain personalities – perhaps one out of every seven people or 15% of our society. "If you haven't been someone's 'target of blame', you will soon be. Though it is a growing problem, it is also a predictable one, and a problem that can be managed in most cases with more understanding – and doing the opposite of what you feel like doing", said author Bill Eddy.
"The early reaction to It's All Your Fault! has been excellent", said Ray Sobol, Vice President of publisher Janis Publications. "People can easily identify with being a target of blame and unreasonably escalating disputes. Understanding these personalities helps how we perceive and manage our family members, neighbors, co-workers, employees, bosses, business interests and even politicians. We are certain this book will become a must-have for home and business."
Janis Publications Inc. is a California based publisher focusing on topics promoting conflict prevention, conflict management and dispute resolution. "It's All Your Fault!" – 12 Tips for Managing People Who Blame Others for Everything can be ordered through Amazon.com, Barnes & Noble, book retailers worldwide and is also available from the publisher's website www.janispublications.com in book and e-book format.
###