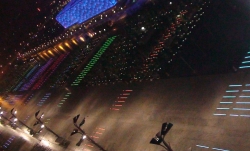 Hong Kong, Hong Kong S.A.R., August 16, 2008 --(
PR.com
)-- Neo-Neon Holdings Ltd. (HKEX.1868) announced today that its color-changing LED products are installed at the Beijing 2008 Olympic Games in Beijing, China. Neo-Neon's color changing pathway lighting illuminates the walkways leading into the "Bird's Nest" stadium, while the company's video tubes flash the Olympic 2008 message and entertain visitors at Festival Walk.
Neo-Neon designs, engineers and produces the highest performing LED lighting systems, LED light bulbs and lighting products in the industry. All Neo-Neon products provide unsurpassed flexibility, ease-of-use and unparalleled performance for multi-purpose lighting applications. Neo-Neon's color changing LED systems were chosen as the ideal lighting solutions for the quality and reliability required by the 2008 Olympics.
The Beijing National Stadium "Bird's Nest" will host the opening and closing ceremonies, athletics and football events. Neo-Neon was awarded the contract to install the color changing pathway lighting leading into the "Bird's Nest" venue and the LED display at Festival Walk.
"Neo-Neon is proud to be a part of the Beijing Olympics," said Ben Fan, Chairman of Neo-Neon Holdings. "Our RGB Pathway in-ground lighting system was an ideal addition to the spectacular Bird's Nest. The LED solution provides unparalleled performance and cost savings over conventional lighting, and the unique programmable features of LEDs give the designer methods of expression not previously possible. As a leader in LED lighting, we are proud to see LEDs featured everywhere at the Olympics, from the red drumsticks of the drummers, to the LED embedded costumes of the dancers performing on a huge LED floor, to the video and color changing displays like these provided by Neo-Neon. The possibilities with our LED products are endless and it's an exciting future for Neo-Neon's patented LED technology."
###
Neo-Neon is the world's largest manufacturer of decorative and seasonal lighting products and a major producer of solid state LED lighting products for the decorative, DIY and commercial lighting markets worldwide. Neo-Neon is committed to retaining and expanding its market leadership position with stellar customer care, quality assurance, product innovation and vertical integration. Neo-Neon's commitment is to its customers, the industry and the environment. Neo-Neon is a publicly traded company, with common shares listed on the Hong Kong Stock Exchange under the symbol "1868".
More information on Neo-Neon's LED Lighting Systems and products is available via the Internet at
http://www.neo-neon.com
.
For further information:
Media and Investor Relations:
Susan Larson
China: (86) 750 8300941
US: 1 (312) 239-0774
susanlarson@neo-neon.com