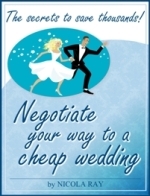 London, United Kingdom, August 28, 2008 --(
PR.com
)-- With the credit crunch looking likely to loom well into 2009 and weddings costing more and more, brides need to find innovative ways to save on their weddings.
There are the usual ideas of doing it yourself, shopping online or eloping to save money, but Nicola Ray, from Cheap-Wedding-Success.co.uk suggests that there is a better way that allows you to have all the trimmings and still come in on budget. That way is negotiating.
We live in a price-tag society, where we simply accept the price we see. Every day from shopping in our local supermarket to picking up our favourite brands on the high street, we check the price tag and pay what we see. But, when you're buying something bigger, there's always room for negotiation.
"Negotiating with wedding suppliers is a fantastic way to bring down your costs" says Ray, "but most couples are too worried that they might get a 'no' response or encounter an awkward situation, so don't bother asking."
In Ray's new book "Negotiate Your Way to a Cheap Wedding" she explains how easy it is to succeed at negotiation when you develop a relationship with your supplier and use the right language. Ray's book takes couples through the negotiation process from planning to tactics with each supplier, so they can see exactly where they can, and can't, negotiate as well as where they can save.
"From wedding packages to photography, there are tricks that you can use to get those big discounts or added extras. I just simply break it down for couples, so it's easy to ask and get more for your money" informs Ray.
It's the perfect antidote for the credit crunch bride and an easy way to save thousands on your wedding. The book can be bought from
Cheap-Wedding-Success.co.uk
.
###
Notes For Editors
Cheap-Wedding-Success.co.uk was launched in 2007 as guide to help couples have a cheap wedding. It is now the leading website for budget weddings in the UK. The site is owned and edited by Nicola Ray.
"Negotiate Your Way to a Cheap Wedding" is the first book to be launched by Nicola Ray.