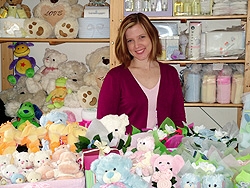 Brisbane, Australia, August 30, 2008 --(
PR.com
)--
Christmas Hampers
and
Baby gifts
are two highly competitive marketplaces. Darren and Jo-Anne Johnson were therefore very proud to represent both industries via Little Pixie Gifts, a finalist in the Specialty Retailer and Services Category of the 2008 Quest Business Awards.
The Gala Awards night was held on the 15th of August. "It was like a mini Academy Awards," said Jo-Anne Johnson. "You could feel the excitement building as each winner was announced. We're just so proud to be here. To be a finalist after being nominated for the first time is very humbling. Especially since this only our second full year in business."
The winners and finalists were published in a special edition of the Quest newspapers around South East Queensland. Quest Newspapers congratulated Little Pixie Gifts on reaching the finals. "By achieving this finalist status your business has shown true support from the local community, your customers and our readers.
To attain finalist status in the 2008 Business Achievers Awards your business has been ranked with up to 6 top businesses in your category who have received the most votes over the 4 week voting period for the Southern Star Business Achievers Awards. Well done!"
Established in 1994, the Business Achiever Awards allow local communities the opportunity to recognise and reward their local businesses.
Darren Johnson thanked all the supporters who had voted for Little Pixie Gifts. "We love our business. We're so lucky to be a small part of the process of congratulating and thanking people every day. We take real pride in the trust placed in us. Now it's our turn to thank everybody who took the time and effort to support us."
When asked how she thinks Little Pixie Gifts managed to become an Award Finalist, Jo-Anne said, "Well it's hard to pinpoint any one thing. We obviously have very nice and very supportive customers! But I think the pride we take in all our gifts, the depth of our baby gift range, how they're presented, making sure the customer is happy – following up after delivery. I think our customers appreciate that care."
"Gift giving is a very personal thing. People are trusting us to do things right for them. If someone orders a gift basket for an anniversary for example, we check with the customer the anniversary date so that we deliver it on the right day. We also got lots of positive feedback from last years Christmas Hampers. It's probably something different for everyone who voted for us."
There's little time for the Little Pixie Gift team to rest, however. With Christmas fast approaching preparations are being made to finalise the 2008 Christmas Hamper range. "We have some very special packages coming for this season," commented Jo-Anne. "A range perfect for corporate clients and options for family gifts too."
Little Pixie Gifts is a gift delivery service, offering prompt service to local and worldwide customers who wish to send gifts to anyone in Australia. Specialties include a wide range of baby gifts, gift baskets and Christmas Hampers.
For more information please visit www.LittlePixieGifts.com.au.
###