BurglarGARD Protects Windows and Glass Against Thieves and Vandals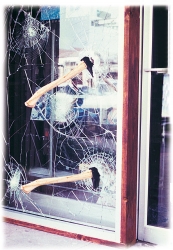 Atlanta, GA, September 08, 2008 --(
PR.com
)-- The windows of businesses and homes can now be "shielded" against thieves, vandalism and even riots with a glass fragmentation film called BurglarGARD™ from ShatterGARD®, Inc. Applied directly to the glass, BurglarGARD works like an invisible coat of armor, strengthening the building's "weakest security link" -- the glass.
BurglarGARD adheres to the interior side of the window. The high strength, optically clear or tinted polyester material makes the glass significantly stronger and virtually impenetrable to the most violent of blows. The film is virtually undetectable to the human eye and will not alter the appearance of the windows in anyway.
BurglarGARD can provide a significant improvement over standard or tempered treated glass in its ability to withstand an attack from weapons such as a baseball bat, flying rock or even the occasional stray golf ball. While a criminal may muster enough force to shatter the window, it will require repeated and attention getting blows to break through the virtually impenetrable film. Most burglars won't risk the time needed to break through, and will abandon the attempted burglary.
That's good news for homeowners and businesses that use windows and showcases to display their products. According to the FBI's Unified Crime Report, almost 70 percent of all burglaries involved forced entry through a window or door.
"We all know that an alarm system is a critical part of any business or residential security plan," said ShatterGARD vice president, Jordan Frankel. "But generally speaking, an alarm sounds only after penetration has already occurred. But BurglarGARD was designed to stop a would-be intruder beforehand by reducing the likelihood of window penetration."
BurglarGARD glass protection film is available through a nationwide network of ShatterGARD authorized installers. For more information, contact ShatterGARD, Inc. Toll free: 1-888-306-7998-14 website:
www.shattergard.com
. or http://www.youtube.com/watch?v=A_H_SNdO4_s
###
Contact
ShatterGARD Glass Protection Films
Jordan Frankel
888-306-7998
www.shattergard.com

Contact