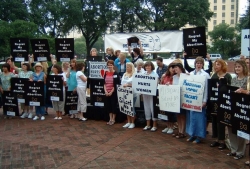 Belton, TX, September 11, 2008 --(
PR.com
)-- Molly S. White, Founder and Director of Women for Life International has released the below statement regarding Carol Fowler's remark about Sarah Palin. Women for Life International is a coalition of pro-life groups and organizations combining their voices for the advancement of the right to life for all humans (born and pre-born) and to protect and restore motherhood and traditional families.
"South Carolina Democratic Chairwoman Carol Fowler's remark that vice presidential candidate Gov. Sarah Palin's 'primary qualification seems to be that she hasn't had an abortion' is offensive to women who have had abortions and are now very actively pro-life," says Molly S. White, Founder and Director of Women for Life International, Inc., (as well as a Republican Alternate Delegate-At-Large).
"I am passionately pro-life because I have experienced abortion. After having two abortions and after interviewing and counseling hundreds of women who have had abortions, I can tell you that abortion is one of the most destructive choices a woman can make. I and millions of other women who have chosen to abort our children have learned the hard way that the promises of the empowerment of "choice" are nothing but false promises that left us feeling empty, powerless, degraded and violated", White continues.
"Women who have had abortions and have healed from the multiple destructive psychological and physical consequences admire Gov. Palin for not falling for the rhetoric of choice. Many women who were once pro-choice and now pro-life are so because we have learned the hard way that abortion hurts women", White continues.
Molly concludes, "As a woman who has chosen abortion and is now actively pro-life I understand why women may feel threatened by Gov. Palin's motherhood. In my former state of denial that my abortion decision caused me much grief, shame and regret I felt threatened by women who were in the very same circumstances as me but gave birth to their children. Gov. Palin represents strength and unconditional love for her children where I was weak and selfish.
"I don't just speak for myself either. As a pro-life speaker, television host and abortion recovery counselor I have interviewed, counseled and worked with hundreds of women who regret their abortions and are now actively pro-life. These women understand first hand the overwhelming trauma of abortion and its deep and long lasting negative effects. Many women feel they were exploited in their time of need as abortion was presented to them as their only option. Many women felt forced or pressured to abort and many felt they had no other options. These same women are now speaking publicly about their pregnancy, what happened to them inside the abortion clinic and the painful and long lasting self destructive consequences of that choice".
###