Los Angeles Dynamics NAV User Group – A Successful Beginning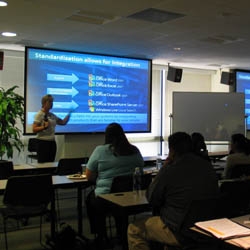 Los Angeles, CA, September 16, 2008 --(
PR.com
)-- The first Microsoft Dynamics NAV (formerly Navision) User Group ever held in the Southern California area took place at the Los Angeles Microsoft Offices on Thursday, August 21, 2008, and was a huge success.
The user group was hosted by Dynamics West "the Dynamics NAV experts". Having been involved in the NAV/Navision community since the very beginning of Navision in the US (1997) many of the staff were excited to be the ones to host this watershed event for the Los Angeles Dynamics NAV community.
The user group started with personal introductions then got down to business with an hour and a half presentation on What's New in NAV 5.0. From the new Copy to Excel, Copy to Word and Document Link buttons to the user-configurable Analysis Reports for Sales, Purchasing and Inventory to the new Inventory Costing worksheets, the experts at Dynamics West showed feature after feature and answered any and all questions thrown at us. As CEO David Cintron says, "After all, we stand behind our claim that we are the Dynamics NAV experts and we're not afraid to prove it."
Following a catered lunch was a guest speaker from Microsoft. Information Worker Specialist Claire Saddington gave a presentation showing how Dynamics works with the Microsoft Office product line, including how Dynamics NAV can interface with not only Excel and Word but also synchronize with Outlook and can e-mail, send and receive hyperlinks and even share data with Microsoft Project.
The highlight of the user group and its true purpose came at the end in the user peer networking session. Many users were fully engaged in discussions with each other in true user group form. The next Los Angeles area Dynamics NAV user group is scheduled for November.
Dynamics West, with headquarters in Ventura County, California, is a Microsoft Dynamics reseller specializing in the Microsoft Dynamics NAV business software product from Microsoft, one of the
top-ranked
Business Management Systems in the world. Dynamics West has earned a proven competency in the implementation, deployment, customization and maintenance of Microsoft Dynamics NAV (formerly Navision). They have locations from Los Angeles to San Diego and Ventura to Phoenix.
###
Contact
Dynamics West
David Cintron
805-764-5101
www.dynamicswest.com

Contact