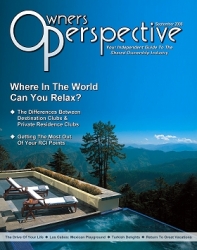 London, United Kingdom, September 17, 2008 --(
PR.com
)-- Owners Perspective Magazine due for launch in print in January 2009, has been trialling its publication online since July 2007 and has already generated a subscription base of more than 7,400 readers from the first three editions.
The independent publication concentrates on the ownership of high end fractional, private residence club, destination club and timeshare products, with its success largely attributed to the fact that its publisher, Perspective International Ltd also produces the most read independent business to business magazine for the same industry globally and therefore has an existing and extensive client list and deep rooted knowledge of the industry and trends, past, present and future.
"The aim of Owners Perspective Magazine is two-fold" says company CEO, Paul Mattimoe; "We want to provide a resource for existing owners of fractional properties, boats, jets, cars etc which we have found has been in great demand recently but not yet fulfilled, but then we also want to utilise our strengths in marketing and media and offer this magazine as an independent guide to those considering a purchase in the near future, which is ideal for luxury holidaymakers and prospective second homeowners. Exhibiting at high profile major travel shows within the UK is the first part of our strategy to educate vacationers on the latest travel trends and products now gaining popularity around the world. "
Unlike most magazines, although the print version is available by paid subscription, the full version can be viewed online free of charge, along with a wealth of hints, tips, advice and destination guides in the online member's area.
For more information visit
www.ownersperspective.com
###