This New Cat Flap Prevents Common Mishaps
If you've ever had stray cats or neighbour's cats coming in through your cat flap, you've probably had them stealing your cats food and spraying more than once. What starts out as a great way to let your cat in and out often causes more harm than good. Sometimes to the point you have to block the cat flap back up and resort to manually opening and closing the door to let your cats in and out yourself. If that sounds familiar, then Pet Porte is for you.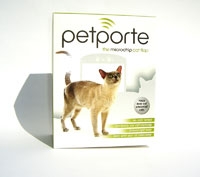 Nottingham, United Kingdom, September 18, 2008 --(
PR.com
)-- The Pet Porte is a new kind of cat flap that protects your home from invading cats. It has a unique sensor that reads your cats existing microchip before instantly unlocking the door. The extra strong locks stop other cats from bashing their way in.
It's powered by a low voltage AC adaptor and comes in a choice of three attractive colours to suit any decor.
It's one of those amazing ideas that is so simple you wonder why it took so long for someone to think it up. It's the brainchild of a vet who lives in Guernsey.
He was so fed up of cats being bullied in their own that he set about to doing something. The idea happened like a flash of inspiration whilst routinely scanning a cat's microchip. And Pet Porte was born.
Cats just love going out and coming in when they please – but they don't like it when other cats start coming in and invading their territory.
The cunning features of Pet Porte are popular with cat owners. Cats also love the fact that this cat flap is collarless. Owners save money on cat food now they don't have to feed the entire street's feline population anymore and cats are less stressed and more contented.
Even better, Pet Porte has a unique light sensor that can unlock the cat flap in the morning and lock it again at night for owners who want to keep their cats inside at night. No more getting up on a Sunday morning just to let the cats out. Don't you deserve to laze in bed longer?
For spoilt cats and thoughtful cat lovers everywhere
A Pet Porte makes a great addition to your home in terms of security and sheer usefulness. It is backed by an 18 month warranty so if anything goes wrong the manufacturer will put it right. You can even try it in your home risk free for 30 days.
If a microchip reading cat flap appeals to you then check out Pet Porte at
www.microchipcatflaps.co.uk
. They cost £125 each.
###
Contact
Microchip Cat Flaps
James Winsoar
0115 940 0899
www.microchipcatflaps.co.uk

Contact