Author Sue Katz Experiences Debut Breakthrough with "Thanks But No Thanks: The Voter's Guide To Sarah Palin"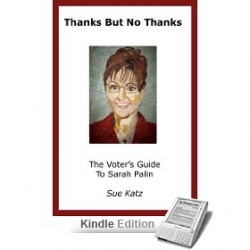 Boston, MA, October 06, 2008 --(
PR.com
)-- Arlington, MA author Sue Katz has been building a following for years with her articles, journalism, and the blog entries on her popular blog Sue Katz: Consenting Adult. But the events of the past month may have transformed her career as an author, and that following of readers and fans has played a pivotal role in making her first book -- Thanks But Not Thanks: The Voter's Guide to Sarah Palin -- an instant success.
Katz began blogging about Palin and her selection as vice-presidential nominee just hours after John McCain announced his choice. Within a few days, a book deal with independent publisher Harvard Perspectives Press had landed in her lap.
Now, the newest book on the 2008 presidential campaign – and the first to take a critical look at Sarah Palin – has caught fire following its launch Wednesday on the eve of last night's vice-presidential debate.
Launched as a Kindle exclusive for 10 days prior to its paperback edition launch on October 13, Thanks But Not Thanks is the product of a month of intensive work by Katz and is being published by independent publisher Harvard Perspectives Press. The book has already received rave reviews from several major authors, including Harriet Lerner, author of bestseller The Dance of Anger: "Sue Katz's meticulously researched book cuts through the media fog and political doublespeak, bringing the facts about Sarah Palin into sharp resolve."
Readers at Amazon.com apparently agreed. Within two days of its launch, Thanks But Not Thanks rose into the top 250 titles among 183,000 books in Amazon's Kindle store and earned a 5-star customer rating among early Amazon reviewers.
"The response to my blog entries immediately after Palin's selection made me realize that people were hungry for help in distilling all the information that started pouring in," said Katz this week. "Now that my publisher has announced the book, I'm astonished to see how the mesh of networks kicks into gear when it finds something of interest. The circles I've been involved in all my life have been telling all their various networks and the resulting buzz over just 48 hours is stunning."
"It's especially cool to have it come out on this new Kindle technology, even before the paperbacks are ready to be shipped," she said. "Kindle has allowed tech savvy readers to be the first to get into my brain and my book."
"When her selection was announced, I was trying like everyone else to learn about Sarah Palin," Katz recalls in explaining to readers how she began the project just a month before publication. "I began blogging about her as I sifted through the information. I am a woman with strong views and definite opinions, but I try to do due diligence when I'm taking a public stand. "I hope this book will help you with your voting decision," Katz tells readers in an introductory chapter.
Thanks But Not Thanks is the 11th book published by tiny Harvard Perspectives Press, including Stephen Windwalker's bestselling guides to the Kindle (2008) and to the online bookselling business (2002).
###
Links:
Detail Page in Amazon Kindle Store: www.amazon.com/gp/product/B001H0G6M8
Blog Page for Book, with cover art: http://palinvoterguide.blogspot.com/
Sue Katz: Consenting Adult blog: http://suekatz.typepad.com
Note: To request an electronic review copy please send email to palinvoterguide@gmail.com
Harvard Perspectives Press - Arlington, MA 02474
http://palinvoterguide.blogspot.com/
617-418-3161
Contact
Harvard Perspectives Press
Stephen Windwalker
617-418-3161
palinvoterguide.blogspot.com

Contact
Multimedia
Document file for news release