The Building Studio Architects Earns First LEED® Certification for a Private Home in New York City
New York, NY, October 09, 2008 --(
PR.com
)-- The Building Studio, one of New York's boutique architectural firms, is pleased to announce it has completed New York City's first LEED® (Leadership in Energy and Environmental Design, Neighborhood Development) certification for a private single-family home. The Rauch residence, which received a LEED Silver Certification, is located just north of Manhattan in the Riverdale neighborhood.
LEED® for Homes awards projects that meet the highest sustainability, energy conservation and environmental stewardship standards.
"Through innovation and creative design, we hope this project shows how we can build responsibly and affordably even in and around New York, with its formidable complexities and costs" said The Building Studio's partner Michael Goldblum, AIA. The 1,700 square-foot house, built in 1939, underwent an extensive "green" renovation, with additions bringing the total size to 3,200 square feet.
Despite the increased size, the home's innovations resulted in a markedly reduced cost for the operation of the home: energy costs should remain the same as before the work began. The design saves over $1,600 a year and emits 5.5 tons less of carbon dioxide than a standard home of the same size. Water use was reduced by 25-40% by utilizing low-flow fixtures, double flush toilets, and high-efficiency landscape watering.
The architectural design of the home was as important to the architects as its environmental qualities: "I would consider the project a failure if its efficiencies and environmental responsibility made the experience of the house less exciting," Goldblum said. And indeed the house is quite striking: balancing the traditional details of the original with new, contemporary elements creates a house that is warm and spacious, charming and edgy.
"I'm so excited about the way our house saves energy and cuts down on pollution," said Ann Rauch, the homeowner. "We've needed space as our kids grow up. The opportunity to expand our home while going green is a win-win situation for us."
About The Building Studio Architects
The Building Studio, LLP is an architecture firm based in New York City. The partnership, founded in 1992, has experience in diverse projects types throughout the tri-state area and internationally, including both private and multi-family homes, offices, houses of worship, industrial buildings, medical suites, and other building types. This breadth and depth of experiences allows The Building Studio to use information from one type of space to bring creative solutions to another, finding intelligent, value-adding ideas from unexpected places. For detailed information and portfolio, visit http://www.TheBuildingStudio.com.
###
Contact: Nicole Alexander
Head, Marketing & Public Relations
The Building Studio Architects
212.279.1507
nicole@thebuildingstudio.com
Contact
The Building Studio, LLP
Nicole Alexnder
212.279.1507
www.thebuildingstudio.com

Contact
Multimedia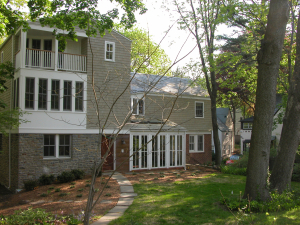 This is an exterior view of the front of the home after the 1,700 square foot addition was added.