Bubba's Got a MySpace; New Ticket Website Gives Customers the Chance to Interact with Cartoon Mascot
"I have read that product mascots are a defining characteristic of American Society. Mascots like Tony the Tiger and Toucan Sam have stood the test of time and achieved immortality. Although many dotcoms do not take advantage of social networking sites like MySpace, connecting with a website that produces more traffic than any site excluding Google and Yahoo provides an untapped opportunity for internet companies today," Dan Chandler, CEO, TriFectaTickets LLC.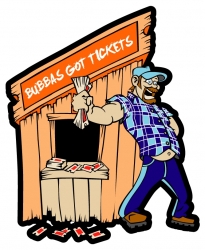 Ashland, OH, October 16, 2008 --(
PR.com
)-- "Born the son of a farmer, Bubba grew up just north of the Little Calumet River near Chicago in a town called Arcadian. His given name was Knavish (pronounced Nave-ish) Cypher. And anyone born with the name Knavish could use a nickname. Most people would associate the nickname Bubba with someone from the southern states, but believe it or not the nickname Bubba was quite popular in the Chicago area in the early 1960s....Known as a crafty fella, Bubba was going to turn an old outhouse on the farm into a ticket shack and invite people from all around to come buy his tickets. Living rather close to the city, he knew many folks from Chicago would come out to the farm to check out his shack full of tickets!" (MySpace profile of Bubba from www.BubbasGotTickets.com)
This is a part of the story of the fictional character, Bubba, created by Dan Chandler, CEO, TriFectaTickets LLC, for the company's recently launched website
www.BubbasGotTickets.com
. The launch of the company's first website is the culmination of six years of research of the secondary ticket market by Chandler, a 1994 Marketing graduate of Ashland University (Ohio), and two partners. The secondary ticket market according to Smart Money is a 5 billion dollar industry that is expected to grow to 10 billion dollars by the year 2012.
"It is extremely important to communicate your brand's personality. Almost everyone has had a Bubba in their life at some point," offered Chandler. "We think it will be much easier for people to remember to get their tickets from Bubba," said Chandler. Mascots, especially cartoon characters have been the face of many successful products throughout the years. Wal-Mart, the top retailer in 2006 with sales of $340 billion uses a simple smiley face as the mascot for its impressive retail chain.
"I wanted a face for our website, something people would attach to and remember for years," said Chandler. "Most ticket websites, although very successful, are very forgettable. Who can remember blahtickets.com?" Anyone who has a MySpace page can become friends with Bubba by going to his page. (
www.myspace.com/bubbasgottickets
) Chandler said Bubba will answer his emails.
www.BubbasGotTickets.com
will carry over 1 billion dollars in inventory as part of the TicketNetwork conglomerate of brokers that are the main competitor of secondary ticket powerhouse Stubhub.com. Chandler's site will provide cheaper tickets to sporting events, concerts, theater productions and tickets to about any major venue that exists. The site also features up to date information on the teams, musicians and productions associated with the tickets it sells. MP3 downloads can be purchased on the site through Amazon.com.
"So, today the nickname still fits this entrepreneur, who overcame the odds of not being a fine tuned city boy to become a successful businessman…. Bubba is now regarded as one of the most eligible bachelors in the rural Chicago area." (About me section of MySpace profile)
Chandler said the MySpace page has been available since September 18th of this year and Bubba has developed many friendships already. He encourages anyone interested to visit Bubba.
Bubba's cartoon logo copyright 2008 © All Rights Reserved TriFectaTickets LLC in Ashland, Ohio.
###
Contact
TriFectaTickets LLC
Dan Chandler
419-564-4038
www.bubbasgottickets.com

Contact