World's First Comedy Gardening Show Premiers and is Immediately Featured on Youtube & Blip.TV
MI Productions in conjunction with the Independent Comedy Network has released the world's first comic take on the Gardening Show with their new series "We Grow Together." The show was immediately featured on Youtube's Comedy page and on the front page of Blip.tv.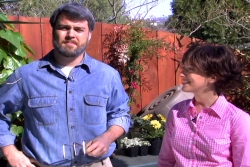 Los Angeles, CA, October 22, 2008 --(
PR.com
)-- MI Productions announces the launch of the World's First comedic gardening web series "We Grow Together". The show is a parody of the classic PBS show 'Crockett's Victory Garden' along with contemporary gardening shows.
Full of quirky, odd-ball humor, the new web series "We Grow Together" is the world's first comic look at the gardening show. Each five minute episode dispenses genuine gardening advice while following the offbeat relationship between its two hosts. Dour New England Master Gardener Brad Chipwillow and eternally perky co-host Lana Chang strike up a chemistry that extends beyond the flower bed.
Watch the show critics are calling:
"Enjoyably genius" & "A gardening show on acid"
- Tubefilter.tv
"Appeals to…those who like having their hoeing tips with a little bit of spice."
-TV Week
Also of Note:
"We Grow Together" has been featured on Youtube's Top Ten & Blip.TV's front page.
The series was created by Sean Casey & Anne Gregory, a real life husband and wife team who write and perform in Los Angeles. They wrote and star in the series, which continues their tradition of skewering such offbeat topics as the Romantic Comedy, Golf, and Porn. Anne currently stars in the popular new WB series "Downer's Grove".
We Grow Together was produced by MI Productions, the production arm of long time touring comedy group Mission IMPROVable, in conjunction with the Independent Comedy Network (ICN).
For additional information contact Sean Casey. We Grow Together is a joint trademark of Sean Casey, MI Productions and ICN.
MI Productions:
Adding to the success of their longtime touring college show, Mission IMPROVable launched MI Productions in Spring '07. They've secured production deals for New Media properties from clients such as Lollapalooza, ICN and The Montreal Comedy Festival's Just For Laughs. Sean Casey and Sean Monahan are the joint heads of production.
Contact:
Sean Casey
MI Studios
(323) 428-0785
www.youtube.com/watch
###
Contact
MI Productions
Sean Casey
(323) 428-0785
missionimprovable.com

Contact