Unique Baby Nursery Themes, Crib Bedding Designs and Decorating Ideas Expands Product Line and Information Service
Unique Baby Gear Ideas, after two years in operation, has announced an expansion in article categories and products.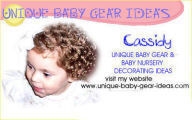 New York, NY, October 26, 2008 --(
PR.com
)--
Unique Baby Nursery Themes, Crib Bedding Designs and Decorating Ideas
has become a popular baby nursery decorating resource for parents who are welcoming a newborn into the family. The site has now been providing guidance to moms and dads on selection of nursery equipment and decorative items for two years. The frequent addition of helpful videos and information prompts visitors to bookmark the site and return for follow-ups on a regular basis.
Fans of the website will be excited to learn that Jan Bay has announced the inclusion of even more decorative advice on similar topics. A category that will address questions regarding wall decorations will make it easier for DIY decorators to view their options for the baby's walls as they are released to the market.
The news is that in addition to suggestions and instructions for popular themes and styles of decor, Unique Baby Gear Ideas now provides recommendations in the selection of baby themed art. Guidelines for hanging height and the creation of clever arrangements are accompanied by examples of available items chosen for their similarity of color and style to the latest baby crib bedding and furniture collections.
After fielding requests for advice for choosing the best, mixed media wall displays to put the finishing touches on her unique baby nursery themes and decorating ideas, she saw a real need for her personal attention in this area. Finding decorative solutions for modern homeowners struggling to find properly sized baby nursery pictures and prints for use in a small bedroom became a priority which resulted in a separate article category providing information on painting techniques, murals and art for the stylish nursery.
The website has now been revamped so that parents can easily find and utilize information on the latest baby nursery themes and decorating ideas that include all aspects of contemporary nursery design from bedding to ceiling fans as well as advice on choosing the best wall decorations no matter what the color scheme or which of her baby nursery themes and decorating ideas the decorator might favor.
This is just one more task that Jan has undertaken in her efforts to insure that parents no matter what their means can have the tools to design a space where they can enjoy and bond with their babies. This growing website has just passed its second anniversary and it's clear that Jan's focus on the needs of her subscribers will help her to achieve her goals.
###
Contact
Unique Baby Gear Ideas, Decorating Tips and Nursery Themes
Jan Bay
315-677-6034
http://www.unique-baby-gear-ideas.com/

Contact