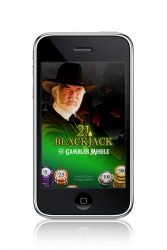 Atlanta, GA, November 06, 2008 --(
PR.com
)-- Thegamblermobile.com and PlayScreen today announced that users will know when to hold'em and when to fold'em with the launch of new Slots and Blackjack casino games on the Apple App Store. Both games feature the Kenny Rogers "The Gambler" brand and style and are available for iPhone and iPod touch.
"It's exciting to be offering new gaming experiences on innovative and ground breaking devices," said Kenny Rogers. "I'm a huge Apple fan and I can tell you our casino games look and play great on the iPhone and iPod touch."
"I'm proud to be working with a legend to create great mobile entertainment," said William Volk, CEO of PlayScreen. "These games feature the music and imagery of Kenny Rogers and are designed to take advantage of the great graphics and audio capabilities of the iPhone and iPod touch."
"Our goal was to create the best casino games for the iPhone and iPod touch that would appeal to gamers and Kenny Roger's fans," said PlayScreen President Sherri Cuono. "Starting with Blackjack and Slots we will be launching a series of casino games including future social games featuring networking capabilities that allow people to enter tournaments, play and chat with each other."
Blackjack and Slots are now available worldwide for $4.99 each from Apple's App Store on iPhone and iPod touch or at www.itunes.com/appstore/
About PlayScreen
San Diego-based PlayScreen is a social entertainment company delivering mobile social games, ringtones, wallpapers, videos, and text services on all major US Carriers. More Details about PlayScreen at www.PlayScreen.com. (PlayScreen is a trademark of MyNuMo, LLC.)
About Thegamblermobile.com
Thegamblermobile.com is the premier gaming brand and provider of scores, sports information, odds, casino games, poker tournaments and our unique players club community for gamers to interact and form groups of interest. More details about visit thegamblermobile visit www.thegamblermobile.com
###