Novelty Panic Button Reduces Economic Stress
Push this novelty, red, computer key imprinted with "Panic" as a lighthearted way to reduce stress.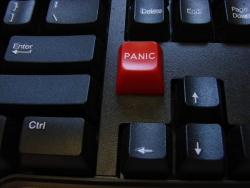 Bellingham, CA, November 12, 2008 --(
PR.com
)-- Feeling stressed from the economic situation? Nervous about job lay-offs? Wondering how you'll pay for those upcoming holiday gifts? When the stress gets too high, simply push your very own red PANIC button. These double backed adhesive computer keys attach to any computer keyboard, (or any object that brings you frustration.) This gag gift is an actual computer key imprinted with "PANIC". It's ideal for bringing a light hearted touch to the home or office. Great stocking stuffers also. www.panicbuttons.com
"We even had a convent order 10 Panic buttons", said Silvana Clark, a professional speaker. "Companies are looking to reduce workplace stress. Sometimes just the simple act of giving each employee a PANIC button at a staff meeting makes them appreciate where they work," she said. During Clark's workshops, she frequently tapes a PANIC button underneath every chair. Participants are told, "Here's a sure-fire way to reduce stress" as they discover their PANIC buttons.
Clark, who travels across the US and overseas presenting keynotes and workshops, offers some other tips on reducing workplace stress:
Take time to ask employees what would make them more productive at work. Many employees are never given the chance to voice their opinions. Stress is reduced when management spends time listening to employees.
Use creativity to break the monotony of everyday workplace routines. Try a stand-up meeting where everyone remains standing during the staff meeting. Celebrate untraditional holidays such as Ugly Tie Day or Clean off Your Desk Day.
Let staff know they are appreciated. Write personalized thank you notes and attach to paychecks. Give out awards such as the "Good and Plenty Award" for a person who always has lots of good ideas…along with a Good and Plenty candy bar of course.
Studies show humor helps reduce stress and increases productivity. During this stressful economic time, find ways to reduce stress with a light-hearted spirit.
www.panicbutton.com
###
Contact
Clark and Co
Silvana Clark
360-933-4046
www.silvanaclark.com

Contact