Snooth Announces Release of Analytics for Retailers and Wineries
Retail and winery partners of Snooth given access to powerful decision making information on wines they produce and sell.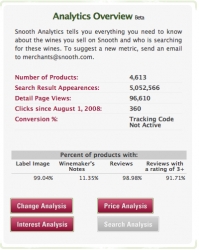 New York, NY, November 18, 2008 --(
PR.com
)-- Snooth, the world's largest and most comprehensive wine site announces the launch of Snooth Analytics. The new feature provides Snooth's retailer and winery partners with an in-depth look at who is searching for their wines and how their prices compare to competitors'. With this and the upcoming launch of Snooth's Group Pages, the company finishes the release of its Partnership Hub, the self-service interface that allows wine businesses to manage their presence on Snooth and submit inventory data so Snooth can redirect users directly to their online shopping cart.
The Snooth Analytics package provides never-before-available data on user behavior in an online wine environment. As part of the analytics tool, retailers and wineries can view data on the number of wines available, search results and detailed page view counts, clicks and conversion data, as well as a breakdown of the completeness of their wine listings on Snooth. Wineries are even shown how many of their wines are available on Snooth through retail channels versus direct from the winery.
In addition, three detailed reports are available - Interest, Change, and Price Analysis. Each report presents a winery's or retailer's data from a unique perspective. Interest analysis displays locations of user interest in a winery's or retailer's products down to the city level, letting the business know where to invest marketing resources. Change analysis reports what new cities and regions have been recently added to the Interest list. Last, price analysis compares a winery or retailer's wine prices with those of the competition based on categories of type, origin, price point, and color. The entire Analytics package is available for free to any winery or retailer that claims their information on Snooth's Partnership Hub.
"Snooth serves millions of user queries a month; most of them targeted by geography. We're really excited to be able to make this unique repository of data freely available to our winery and merchant partners by offering them these industry leading analytics on consumer purchase behavior from across the globe" comments Philip James, Snooth's founder.
About Snooth:
Launched in June 2007, Snooth is a highly interactive, social database of the world's wines, offering both casual and expert wine drinkers the ability to search, obtain personalized recommendations, interact with fellow wine lovers, as well as seamlessly buy from a global network of over 11,000 merchants.
Users have the ability to search by their own personal preferences (bold, peppery, fruity, etc), by a specific meal-pairing, price, or by region or producer. Snooth's recommendation engine also provides customized selections based on stated preferences and user feedback. The more information a user gives on wines they enjoy, the more personalized and detailed the recommendations become.
Please visit
http://www.snooth.com
for more information.
###
Contact
Snooth
Adam Levin
646-723-4328
http://www.snooth.com

Contact