Mom Owned Nookums™ Offers Substantial Savings to Fill the Stockings of Santa's Tiniest Tots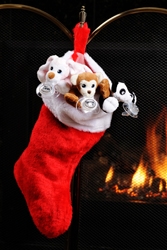 Buffalo, NY, November 23, 2008 --(
PR.com
)-- Nookums™, a manufacturer of innovative baby products, announces its annual Black Friday Holiday Sale with savings of 25% off its entire stock of Paci-Plushies™.
Ideal for infants from two months and up, Paci-Plushies™ are the only detachable
pacifier holder
of its kind that allows for use with popular brand infant pacifiers such as MAM®, Avent®, Evenflo®, Nuk®, Nuby®, Munchkin®, and Playtex®. Visit the Paci-Plushies™ website for a complete list of over 200 varieties of compatible pacifiers.
The
huggable holders
ship worldwide and are available in trendy boy, girl and neutral animal themes such as Paisley The Panda, Milo The Monkey, Cuddles The Cat, Koko The Koala and P-Nut The Puppy. They retail for $9.99 at PaciPlushies.com.
Stacy Dallman, president and CEO of New York based Nookums™, and mother of two small children, recognizes the need for frugal holiday shopping this Christmas season. "With so many families feeling a pinch from the current economic situation, I felt it was important to do my part in helping shoppers stretch their dollar," says Dallman.
Nookums™ designs, manufactures and distributes the innovative line of plush pacifier holders. The Buffalo, New York based company was founded in 2007 when Dallman invented the
Paci-Plushies
™ as a means of locating her toddler daughter's pacifier around the house. After successfully testing the juvenile products market at the 2008 ABC Kids Show in Las Vegas, Dallman's creation was featured in Parenting magazine and became an instant hit for mothers of pacifier using babies.
Use coupon code BLACKFRIDAY during check-out for the Black Friday Sale prices. Valid November 27- December 30, 3008 at
www.PaciPlushies.com
.
For additional information about Paci-Plushies™, log onto www.PaciPlushies.com . Email questions, comments or PR requests to CustomerService@PaciPlushies.com or call 1-800-493-0246.
###
Contact
Paci-Plushies
Stacy Dallman
213-435-9859
www.paciplushies.com

Contact