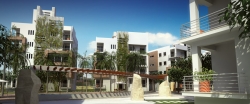 London, United Kingdom, November 27, 2008 --(
PR.com
)-- IDL (EU) Limited, Blue C's main shareholder and the architectural force behind the luxury Whiterocks resort in Bafra,
North Cyprus
, recently received the distinction of seeing one of their projects recognised by the very top level of the interior design community.
During last month's Retail Interiors Award, Marks and Spenser, one of the UK's most well known and enduring names on the high-street, were awarded the accolade for best edge-of-town store for their Lisburn store; a project on which IDL were concept designers.
Combining an on-brand concept with an entirely new retail format for the chain, Group IDL were at the heart of a project designed to move the business forward through the newest extension to the brand – the M & S Home store.
Group IDL intend for their next project, Whiterocks, to reach the same level of accomplishment.
Their proven level of experience and expertise, combined with Blue C's incontestable initiative in developing unrivalled property the world over, are the foundations upon which this unique resort is based.
By progressing into the emerging development market of Turkish North Cyprus, Group IDL and Blue C believe that they can continue to work at the cutting edge of an inspiring new arena. The architecture at Whiterocks was designed with the intention of raising the standard for
investment properties
in North Cyprus, and Group IDL is adamant that they are uniquely positioned to provide uncompromising quality and specification, making Whiterocks a more attractive rental investment opportunity than any other property currently available in North Cyprus.
Just as their work with Marks and Spenser helped to reposition that brand into the home furnishing market, so too do Group IDL believe that by developing the first upmarket rental properties in North Cyprus, they are contributing to the emergent reputation of this corner of the Mediterranean.
By focusing on high end property in a fresh, relatively undeveloped corner of Europe, Group IDL believe they are offering their clients property of a calibre that will both immediately attract holiday makers, thus securing immediate rental returns, and also endure well into the future, thereby granting the possibility of reselling the property in years to come.
###