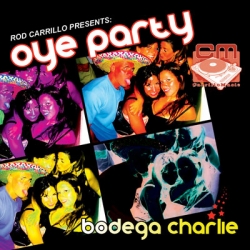 New York, NY, December 04, 2008 --(
PR.com
)-- Rod Carrillo - the electrifying producer that exploded on international dance floors this year - is at it again. He is a vibrant producer/remixer that has had a year full of hits for such artists as Donna Summer, Hardrox, Crystal Waters and Judy Torres. "Oye Party" is Rod Carrillo's new Latin House Anthem along with new artist 'Bodega Charlie."
Carrillo believes the song's purpose is to bring back a lifting Latin feel party anthem. "'Oye Party" is a feel good party record for all walks of life, from the new to the old school," explained Rod Carrillo from his studio in Phoenix, AZ. "When Luis Torres (DBL) and I wrote the record, we wanted to bring a funny but grooving party house record. With our diverse culture we thought a Spanglish record would be ideal and create a party feeling both for the mainstream and underground scenes during these unsettling economic times.'"
"Oye Party" includes mixes from Legendary Chicago DJ Tim "Spinnin" Schommer. " Tim adds the old school Chicago sound with a new twist, " Carrillo said. Also included in the package are mixes by DJ Sted-E, of the famed trio Speakerbox, Mula, and newcomer J Paul. "Sted-E and the Speakerbox guys are on top of their game. Sted-E banged out a mix for the underground culture while Mula gave the track a true Salsa feel. J Paul is a talented up and coming producer that rounded out the Electroclash sound in a very different and unique way," Carrillo concluded.
Some of the world's leading producers and DJs have started playing "Oye Party" out of the box:
"Love the Tim Spinnin' Schommer Bodega Mix - brings me back to those Mad Stuntman days!" – Stonebridge
"Massive tune with fat remixes, that goes directly to my cd case!"
Peter Brown aka The Grower
"Rod Carrillo delivers another club banger. I'm adding this out the box"
Mike Rizzo
"Played it in Los Angeles and dug the response. Great record!"
Albert Linenses III aka AL3
"Nice Feel... back to the roots! A very happy track."
Leony (Sirius, XM, Mega Radio)
Rod Carrillo is a native of the Republic of Panama and has been involved in the dance music scene for the past 20 years. Rod's past dance hits include 'Arizona Bump," "Longtime" with Ronnie Sumrall, "Save Me," "Spotlight" with Eddie Amador, "Free Your Mind" under the name Kario with partner DJ Kilo.
"Oye Party" is available Dec. 4, 2008 exclusive on Junodownload.com and worldwide on Itunes, Masterbeat, Amazon, Beatport and Xpressbeats on December 11, 2008.
For more on Rod Carrillo and his single, "Oye Party," go to www.rodcarrillo.com.
###