Damas Launches Fulla Jewellery Line for Kids for the First Time in the Middle East
Sparkling new collection to adorn little darlings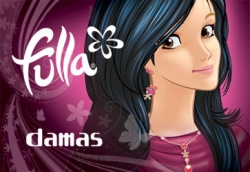 Dubai, United Arab Emirates, November 27, 2008 --(
PR.com
)-- Damas, leading retailer of luxury watches and jewellery in the Middle East and NewBoy FZCO, a company based in Dubai engaged in the development, marketing and distribution of various toys, food, textile and stationery products, have launched the jewellery line of 'Fulla', a new diamond collection for young girls. Fulla, means flower in Arabic, is a very popular doll among young Arab girls.
Fulla jewels are made of 18kt yellow gold with diamonds and attractive enamel colours to enhance the beauty of the wearer. These highly stylised assortments of incredibly beautiful, fine jewellery are available as a three-piece set (pendant chain, earrings and ring), brooches and bracelets. Initially more than 25 designs are being introduced in Dubai which definitely will be on the must-have list of all those parents who have profound love for their little girls. The passion and careful attention that have gone into this new line are evident in the choice of materials, the well-thought out but simple design and the superb craftsmanship.
Tamjid Abdullah, Deputy Managing Director of Damas, enthused "The Fulla character is a famous doll carrying Arabian cultural values. The brand has been extended into several kids' categories such as toys, stationery, textiles and much more. Damas has the privilege of introducing for the first time ever a wide range of jewellery collection with popular Fulla character by using attractive and colourful enamels, accentuated with diamonds made in 18kt gold for young girls to enjoy. We at Damas have always tried to give something extraordinary to our customers in the UAE and I am sure that the brand will do very well."
"We are honored by our partnership with Damas. Fulla fine jewellery is meant for beautiful young girls proud of their cultural values. The spirit of Fulla lives in the beautiful jewellery creations by Damas" said Manar Tarabichi, President & CEO, NewBoy FZCO.
Ajay Pandey, Deputy General Manager of Damas Brands and Products, said "The stunning Fulla pieces come in a variety of themes and the vibrant and exciting lines reflect the latest catwalk trends. Fulla is an expression of one's love for one's child. The traditional Arabian culture and values are transmitted to modern generation kids through the Fulla brand. These tiny jewels are the result of the immense talent of the designers, age-old knowledge and the newest technologies available in the world."
All these factors have made the new Fulla collection a unique work of art. The collection is a fusion of traditional jewellery art and modern designs. Classic style intertwines with patterns of nature to make each piece extremely beautiful. Thus if you are after something unique for your child that will really make her stand out among her school mates, go for a distinctive Fulla piece available at select Damas outlets.
Fawaz Abidin, Fulla Brand Manager, NewBoy FZCO, said. "We are very excited to extend the Fulla brand into diamonds to further leverage its equity. With DAMAS, the biggest player in the region for quality and luxurious jewels, we are confident that we will successfully translate this opportunity to a delightful gold experience to every Arab girl."
About DAMAS
The journey of Damas began in 1907. It has grown from a UAE based company into a global fashion and jewellery network spanning the Middle East, South Asia, Europe and North Africa. The Damas Group has 467 stores in 18 countries around the world, as of 30 June 2008. Damas houses internationally acclaimed jewellery and watch brands such as Tiffany & Co., Mikimoto, Daniel K, Gucci, Faberge, Carrera y Carrera, Paspaley, Pasquale Bruni, Roberto Coin, Fope, Chronoswiss, Parmigiani, Perrelet, Quinting, Montega, Frederique Constant, among many others. The innovative in-house collections include the majestic Bridal jewellery, exclusive jewellery brands such as Damas Cut, Boudoor, Hayati, Riwaya, Jawaher, Farasha, Fairouz, Harmony, Farfasha, Al Manthourah; watch brands Varotti and Aquamarin; and a wide range of other classic and contemporary jewellery and watch collections. Quality consciousness, inspirational leadership and international reputation have led Damas to win prestigious awards including the exclusive De Beers Award 2000, 2004 and 2007 for jewellery design. Damas International Limited is listed on the Dubai International Financial Exchange and its shares are traded under the ticker "DAMAS". For more information, please send your request to:
marketing@damasjewellery.com
About NewBoy
NewBoy FZCO is the leader in the Middle East toy market engaged in the development, marketing and distribution of various toys, food, textile and stationery products. The company also acquires, sells, and markets licenses for some of the hottest cartoon characters throughout a number of product categories. Headquartered in Dubai, UAE, the company has direct operations in GCC, Levant, and North Africa, in addition to India and Indonesia. NewBoy represents famous international toy brands and has its own portfolio of private label brands including Fulla (the number one fashion doll in the Middle East), Fun to Learn, Baby Habibi, Arabian Friends, Baby's In 2 Fun, and Play Time. For more information, please send your request to:
info@newboy.com
###
Contact
NewBoy FZCO
Fawaz Abidin
+971 4 881 9797
www.newboy.com

Contact