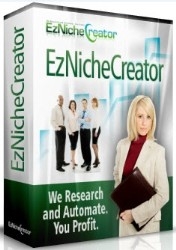 Overland Park, KS, December 04, 2008 --(
PR.com
)-- EzNicheCreator.com released a refreshing take on an established internet business model that promises to help their customers automate some of the most time-consuming and difficult tasks required to market products and services online.
We've all been there. It starts with a great idea for a new product or niche market, or there's a major product launch with great affiliate commissions.
Unfotunately, there's only one thing standing in your way. It's the massive effort required to make sure opportunities are not missed. After all, time is money.
In today's competitive business environment successful Internet Marketers recognize the need to maintain a professional image by creating high-quality campaigns that attract customers and entice them to make a purchase decision. Solutions that simplify routine tasks and automate the process of finding product niches and generating web media quickly are a significant competitive advantage for those who use them. A new startup solution provider has developed such a solution.
Their product, called EzNicheCreator was developed with a very simple concept in mind - review the Internet Marketing process, identify each of the steps necessary to go from concept to a finished web site, automate the process steps through mostly point-and-click responses, and deliver a quality end-product from an easy to use interface. What is refreshing about their solution is its simplicity - and its speed. These guys really know what they're doing.
In addition to automation, EzNicheCreator is designed to integrate with multiple vendors that specialize in delivery of affiliate products and services as well as respected eCommerce vendors. This integration provides their customers with immediate access to hundreds of thousands of products - all from a single solution. There's no longer a need to learn many different tools.
The layout of their site is straight forward and easy to navigate. The member site includes video tutorials covering every step from initial account setup, to uploading newly created websites to a web hosting account. Best of all, the developers are currently planning future enhancements to provide additional value to their customers.
EzNicheCreator provides Internet Marketers the ability to roll out campaigns incredibly fast, saving time and money, and quickly leverage previous campaigns to perform tasks such as split-testing sales copy or creating an entirely new campaign without all the re-work.
"EzNicheCreator" -
http://www.EzNicheCreator.com
- provides advanced automation solutions for Internet Marketers and Entrepreneurs around the globe.
###