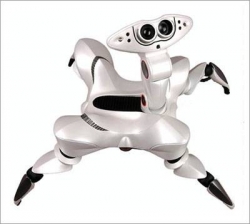 Barrington, IL, December 12, 2008 --(
PR.com
)-- Paradise Robotics has launched a new service to improve holiday gift opening and make parents' holiday experience easier and better. ExpressPlay is a new service Paradise Robotics offers on all of its robotic toys. For a nominal additional cost, the robot toy's box is opened, the annoying tape, glue and twist ties are undone, the toy's batteries are installed, the toy is tested briefly and is reinstalled in the box. A few easy-to-remove twist ties and/or extra packing material is added to ensure a safe journey and voila! no more box fighting on gift opening day.
"We started this service mainly because we've made it our mission to make people's lives better. When we added Wowwee's toy line to our offerings and spent over 30 minutes removing our demo units from their boxes, we were inspired to add the ExpressPlay service as an option," said Gail Jones, a spokesperson for the company.
Wowwee's advanced robot toys are more expensive than typical toys. It is understandable Wowwee would do everything it could to protect the robots sitting on the shelf at the store. One wonders if they have gone too far. After spending about 10 minutes cutting tape and twist ties from Wrex the Dawg or Roboquad, you'll need to find yourself a long and thin shaft Phillips screwdriver to undo the screws that hold the robot on a plastic frame. After you finally dismount and fight the robot out of the box, you'll need a smaller screwdriver to install the batteries. By the time you've done all that, you are ready to throw the robot up against a wall.
ExpressPlay eliminates frustration and makes gift opening day a lot more fun. Instead of relying on an adult to get the new toy out of the box, the child can pull it out him or herself. Play begins at the flip of a switch since fresh batteries are already installed.
Paradise Robotics even includes additional nice touches, like a thank you note that has instructions for how to remove the toy that was reinstalled and notes about where the manual and spare parts are located.
ExpressPlay prices vary on the difficulty to remove the toy from the box and how many batteries it requires. The price is anywhere from $4.00 for Wowwee's Mini-Robo's on up to $10.00 for Roboquad and Wrex the Dawg.
The ExpressPlay service is available on all of Paradise Robotics' toy offerings, including: Wrex the Dawg; Roboquad; Wowwee AliveTM Lion, White Tiger, Panda and Polar Bear cubs; Wowwee FlytechTM Dragonfly; Wowwee FlytechTM FairyFly Flame, Sprite, Snowflake and Glitter; and Wowwee mini-Robos Mini Wrex the Dawg, Mini Roboquad and Mini Robopanda. Paradise Robotics intends to offer the ExpressPlay service on any new toys added in the future.
###