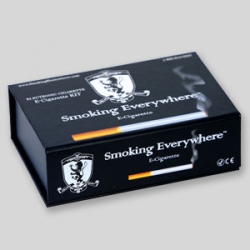 Sunrise, FL, December 16, 2008 --(
PR.com
)-- While football coaches name the best players for 2008, some consumers will nominate Smoking Everywhere Electronic Cigarettes as the year's best product. The new nonflammable smoking product from Smoking Everywhere has captured the headlines, been featured on television news broadcasts, and consumer demand for the innovative product is so strong that Smoking Everywhere has opened dozens of new electronic cigarette sales outlets across the USA.
The unique
electronic cigarette
works by utilizing state of the art sophisticated micro-electronic technology to provide users a real smoking experience without the fire, flame, tobacco, tar, carbon monoxide, ash, stub or smell found in real cigarettes. It looks, feels, and tastes like an ordinary cigarette, but it is actually a much healthier alternative. Inside it, there is a dose of real nicotine which is converted into a mist that is inhaled, and then the mist evaporates harmlessly into the atmosphere.
Dr. Manny of FOX News
Health fame discussed the benefits of the Smoking Everywhere product on an episode of his popular health information show. He explained how the Center for Disease Control (CDC) reported that more than 400,000 people die each year from smoking real cigarettes. But some are switching to the Smoking Everywhere "
E Cigarette
" because it offers the thrill and satisfaction of smoking minus many of the other harmful elements and harsh side effects. Ordinary cigarettes contain numerous toxic chemicals, for example, they have lingering smoke that can offend and adversely affect the health of bystanders. But electronic cigarettes has no secondhand smoke, so they are not even restricted by smoking laws. It is legal, for instance, to use an electronic cigarette in enclosed public spaces such as restaurants, nightclubs, airports and bars is allowed. With the reusable electronic cigarette there are no ashes, no nasty smelling cigarette butts, and no need to use matches, lighters, or ashtrays.
"Electronic Cigarette smokers still get their nicotine," Smoking Everywhere President and CEO Elicko Taieb explains, "that they enjoy the tactile sensation of holding and puffing on a cigarette. But there are absolutely no carcinogenic substances and no tar in an electronic cigarette. The electronic cigarette does not burn anything or contain any tobacco, and smoking them costs less than regular cigarettes."
For additional information call 800-613-0337 or visit
www.SmokingEverywhere.com
.
Smoking Everywhere, LLC is a Florida based company dedicated to creating a smoke-free environment by offering a healthier alternative to smoking without tobacco, tar, and hundreds of other chemicals found in traditional cigarettes. The Smoking Everywhere Electronic Cigarette is a completely non-flammable micro-electronic nicotine delivery device that gives users the look, feel, taste, and sensation of smoking without hazardous and annoying secondhand smoke.
###
Contact:
Elicko Taieb, President and CEO of Smoking Everywhere
Phone: 800-613-0337