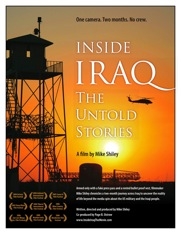 Seattle, WA, December 30, 2008 --(
PR.com
)-- Crashing The War In Iraq
Guerilla journalist and award winning filmmaker, Mike Shiley will speak and screen his film Inside Iraq: The Untold Stories as part of the IndieFlix Red Carpet Screening Series at ACT Theatre January 6th and 7th. After the screening, Shiley will present a solution to the war in Iraq.
Mike Shiley, with no media or military experience:
*Made a fake ABC News press pass at Kinko's
*Rented a bullet-proof vest
*Flew to Iraq on frequent flier miles
*Traveled unarmed through Iraq for two months reporting what the media ignores
*Awarded a civilian combat medal
Shiley's 84-minute documentary, Inside Iraq: The Untold Stories is not your typical film on the Iraq war.
IndieFlix will run the Red Carpet Screening Series with new original films featuring acclaimed directors and producers throughout the year. Join us for drinks and good conversation. For ticket information go to https://www.acttheatre.org/TicketsPlays/Play.aspx?prod=2159
IndieFlix, connecting people through movies…
http://www.indieflix.com
http://www.indieflix.com/insideiraqthemovie
###