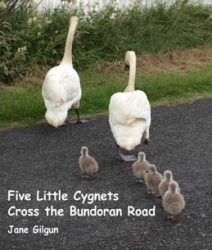 Minneapolis, MN, January 06, 2009 --(
PR.com
)-- New Release: Five Little Cygnets Cross the Bundoran Road by Jane Gilgun.
Momma and Poppa Swan overcome many obstacles to get their babies safely across the Bundoran Road to the salt marsh
on the other side.
Description
A 15-page full-color picture book that shows five fuzzy swan babies in their newborn cuteness being herded across a busy road in Ireland by their very smart mother and father.
The beauty of County Sligo, Ireland, comes to life in this beautiful picture book.
About the Author
Jane Gilgun has spent many summers in County Sligo, Ireland, where this story takes place. Her grandfather Thomas Gilgun was born on a dairy farm in Meenkeeragh, County Leitirim, Ireland, in 1874. Jane is a professor, University of Minnesota, Twin Cities, USA.
Order from Amazon Kindle and lulu.com (http://www.lulu.com/content/5546892) and other on-line booksellers.
stores.lulu.com/jgilgun
###