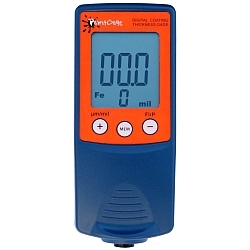 New York, NY, January 05, 2009 --(
PR.com
)--
PaintGage™ FNF
is a Microcomputer based dual Fe/NFe probe
Paint Meter
and Digital Coating Thickness Gauge that measures coatings on all metals.
It measures both non-magnetic coatings on steel and non-conductive coatings on aluminum, brass, etc. Automatically recognizes the substrate and takes a measurement without any damage to the coating surface.
PaintGage™ FNF is equipped with a large Flip LCD Display that allows device to be used in any position. This gage also stores last 10 readings in it's memory (take up to 10 measurements and then compare all the results). PaintGage™ FNF designed for one hand operation and works with a single AAA battery.
PaintGage™ FNF is suitable for the laboratory, Powder Coating Companies, Manufacturing Companies, Paint Suppliers, Steel and Aluminum Refinishing, Automobile Dealers, Auto Auctions, Body Shops, Auto Detailers and any company needing a highly accurate measurement of the dry coating thickness and can be used even in harsh field conditions.
PaintGage™ FNF is CE marked and conforms with the essential health and safety requirements set out by the European Directives.
PaintGages.com offers a new hand-held, non-destructive coating thickness gage that is an ideal for use by body shops, dealerships, painters, appraisers, inspectors, detailers, and professional car buyers at auctions. PaintGage™ FNF
Paint Thickness Meter
enables a quick assessment of the quality of the paint finish and to verify that the condition of a vehicle matches its reported history, that is, determine if the vehicle has been in an accident or experienced other types of paint damage.
For additional information on PaintGage™
Paint Meter
and product video presentation please visit:
www.PaintGages.com
###