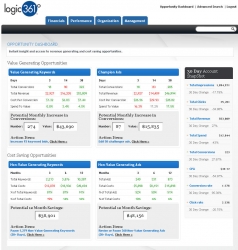 Seattle, WA, January 08, 2009 --(
PR.com
)-- Logic361, Inc.
Logic361
, a leading pay-per-click search advertising analysis software company, today announced the launch of SEM Profit AnalyzerTM, a free, hosted search engine advertising analysis software application for Google Adwords advertisers.
Logic361's SEM Profit Analyzer service works 7 days a week, 24 hours a day analyzing enormous amounts of constantly changing Google Adwords advertising data. It has the unique ability to uncover hundreds of hidden opportunities to increase revenue and decrease costs for Adwords pay per click (PPC) advertisers.
It is amazingly simple to be a expert Google Adwords advertiser when you have software that does all of the analysis work for you and tells you the best changes to make
Logic361 Opportunities Dashboard
Logic361's search advertising analysis software is capable of telling a Google Adwords advertiser to; "increase the bids on these keywords and pause those keywords… re-write this ad and pause these other ads," plus… by following these suggestions you can expect to increase conversions by "X" amount and decrease costs by "Y" amount.
Logic361's Free SEM Profit Analyzer software combines years of collective expertise from GM, Home Depot, ING Direct, Real Networks, Wine.com and dozens of other expert search marketers with advanced PhD level programmatic data analysis.
"It is amazingly simple to be a expert Google Adwords advertiser when you have software that does all of the analysis work for you and tells you the best changes to make," said Stephen Schramke, chief executive officer, Logic361. "The launch of SEM Profit Analyzer represents a significant industry milestone. The free service will benefit Google Adwords advertisers by making it faster and easier to increase profitability."
"With search advertising, the pressure is always on to quickly and cost-effectively deliver results," said Chris Gilpin, marketing director, BuyAutoTruckAccessories.com. "Within 2 minutes of reviewing the dashboard recommendations, I was making significant changes to my Google Adwords advertising account. We have thousands of ads and tens of thousands of keywords and I can now see exactly where to make adjustments. My management time has been cut in half and our Google Adwords advertising is more profitable."
Key Features in SEM Profit Analyzer
Opportunity Dashboard
Google Adwords advertisers can see, at a glance, key opportunities to increase ad revenues and decrease keyword costs. Interactivity is a key feature of the dashboard and provides the ability to quickly access additional campaign statistics and overviews.
Keyword Ad Pair Analysis
Systematically managing ad testing at the keyword level minimizes costly performance variances that can include lost Google Adwords conversion opportunities and increased testing costs. SEM Profit Analyzer's keyword ad pair analysis is powerful a tool that is helping Google Adwords advertisers quickly and easily increase revenue and profits.
Getting SEM Profit Analyzer
SEM Profit Analyzer is immediately available as a free hosted software account. Sign-up information can be found:
SEM Profit Analyzer Sign-up
About Logic361:
Logic361 has a wealth of experience and an in-depth understanding of search engine advertising. The Company's customers range from start-ups to Fortune Top 10 companies and include both B2C and B2B direct marketers. Logic361's software monitors and analyzes over 3,500 search engine advertising accounts per day and over $100 million in annual search engine advertising. Logic361's hosted, on-demand search advertising analysis and management software eliminates the need for search advertisers of all sizes to make investments in technology or IT personnel.
Contact: Stephen Schramke, President and CEO, Logic361, (206) 501-3012 ext. 701 or stephen (at) logic361.com
Google Adwords is a registered trademark of Google, Inc. Logic361 is not affiliated with Google.
###