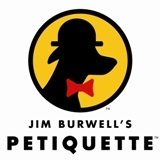 Houston, TX, January 13, 2009 --(
PR.com
)-- Just like the Hollywood Walk of Stars, Jim Burwell of Jim Burwell's Petiquette and his blog,
Dog Training Tips From The Expert
, have been nominated as a Blog Star Expert on the well repsected online dog blog, Dogtime.com
Dogtime.com is the home of well respected dog trainers such as Dr. Ian Dunbar, Teoti Anderson, Jean Donaldson and now Jim Burwell.
Jim Burwell's blog, Dog Training Tips From The Expert, goes above and beyond the norm, in giving helpful, practical and positive information and advice on how to help and correct dog behavior, how to start off right with new puppies to avoid behavior problems in the future and a wealth of other dog information.
Jim's reputation, his dedication to dogs and dog owners has not only earned him thousands of hearts in Houston, TX, but he has also been recognized by the Houston Chronicle in a Texas Magazine article and cover story in which he was labeled Houston's Dog Whisperer.
###