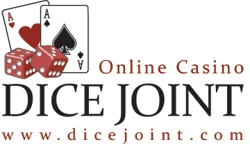 Manchester, United Kingdom, January 21, 2009 --(
PR.com
)-- Dicejoint.com is an online casino featuring over 100 games from slots to cards to dice. "Currently," Paterson principal of Dicejoint.com states "this online casino is like non other seen before. With the sheer size, available games and lifelike 3d playing, there is nothing like it currently on the market".
Dicejoint.com creates a lifelike setting with interactive 3D tables and games creating a feeling of true presence in the casino. The user experience is simple, exciting and foremost entertaining. With games like poker, craps, roulette, sportsbook, slots, baccarat and many others there is something for everyone.
Dicejoint.com began as a regular Online Casino like all others seen all over the internet but looking to create a more fun realistic atmosphere. Through high end 3D graphics and a more sophisticated back end this was all made possible. After countless hours and revisions Dicejoint.com finally hit its mark with a true lifelike casino feeling supported with high end games.
Dicejoint.com is foremost a high end Online Casino We work to create a 1st class user experience and strive to support our clients with world class service. When a great products is available the people deserves to know.
###