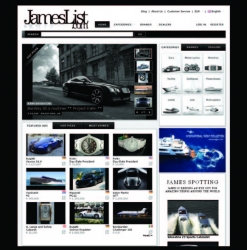 Stockholm, Sweden, January 22, 2009 --(
PR.com
)-- The world's first truly transparent luxury marketplace,
Jameslist.com
, launched today, allowing discerning buyers to find and compare high-end cars, watches, boats, yachts and aircraft from dealers around the world.
"Given the recent roller-coaster of currency and market fluctuations, we saw an opportunity to give serious buyers the tools they need to find premium goods at the best possible price, regardless of where they are in the world." said Noam Perski, CEO of JamesList.com "We have brought together the world's best dealers, from Alain Class Motors in Dubai to International Yacht Collection in Monaco to offer international buyers a complete marketplace."
JamesList features state of the art search technology to let buyers quickly find the objects they are looking for, even rare watches such as the Paul Newman Rolex Daytona, hard-to-find cars like the Maserati MC12, Mustang Shelby, Ferrari Superamerica or magnificent 120+ foot yachts from Palmer Johnson. The more than 350 global Dealers on JamesList range from high-end custom builders such as Orange County Choppers and Kahn Design to traditional dealers with exceptional inventory such as ExecuJet and Lamborghini Stuttgart.
"JamesList provides us with an important channel to reach web-savvy consumers. In today's market, customers are taking exceptional care to do the best deals they can, tools like JamesList are exactly what buyers and sellers need right now" said Sofia Lembrin, yacht broker at International Yacht Collection.
JamesList has offices in Stockholm Sweden and Marbella Spain. The site is available in English, German and Russian with more languages to follow. Important functions for international deal making such as currency and unit conversion are built in to the heart of the platform.
The site focuses on attractive presentation as well as technical function, ensuring that each amazing product is showcased in the right light. The design brings the best elements of glossy magazine presentation to a cutting-edge web interface, giving both serious buyers the tools they need and casual browsers an enjoyable experience.
Editors Note:
JamesList is independent of any affiliation with brokerages, dealers or brands. JamesList has formed strong partnerships with leading industry actors to ensure the best, most up to date inventory from dealers worldwide.
The site is viewable at
http://www.jameslist.com
Contact:
Noam Perski, CEO JamesList, noam@jameslist.com, +46 708 11 52 62
###