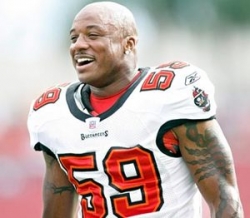 Tampa, FL, January 30, 2009 --(
PR.com
)-- NFL All-Pro linebacker Cato June (#59) of the Tampa Bay Buccaneers and the June Family Foundation, Inc. (JFF) will be hosting the Business of Sports Summit (BOSS), including a Student Business Plan Competition, in partnership with Hillsborough County Public Schools (HCPS) and the Boys & Girls Club of Tampa Bay, to educate Tampa youth on how to be their own BOSS and future executives in the fascinating sports-business industry. 59 Academy®, a program of JFF, has a goal of cultivating next generation sports industry executives and has plans for long-term curriculum development with HCPS.
The BOSS will be held from 9:00 a.m. to 12:00 p.m. on Saturday, January 31, 2009 at the University of South Florida's Marshall Center – Oval Theatre. The BOSS is one of many activities surrounding Superbowl XLIII in Tampa. Cost is free, however, registration is required at
www.junefamilyfoundation.org
. The BOSS event registration is open to the general public. All youth and parents are encouraged to register and attend. JFF will also be hosting a charity basketball game Friday January 30th at the Bob Martinez Center located on the campus of the University of Tampa.
Tamps youth participants attending the BOSS will receive counsel and advice from front office executives, NIKE Jordan Brand, and sports management academic executives. The BOSS will also recognize sports business executives and entrepreneurs for outstanding community service and achievements in the field. JFF will honor Major League Baseball's Executive Vice President of Operations, Jimmie Lee Solomon, with the JFF Sports Business Entrepreneur and Community Service Award. The BOSS will also recognize the incomparable brand innovation and community service of Howard White of the Jordan Brand.
According to Sport Kid Magazine, less than one (1) percent of high school seniors get drafted to professional sports teams and less than 0.2 percent makes the final roster. The sports business is one of the largest industries in the United States, currently fueled by explosive growth. This mega industry is more than twice the size of the U.S. auto industry and seven times the size of the movie industry. More than 50 million young boys and girls are involved in football and other organized sports programs in the U.S. Many kids, particularly at-risk youth, dream of playing professional sports but their chances of actually making it are quite dismal. Cato encourages youth to never give up on their dreams but to always have alternative career paths.
"On the field, I was able to achieve all-pro status tackling NFL's toughest athletes," said Cato June, JFF Founder and Chairman. "Off the field, I am equally determined to be an all-pro tackling illiteracy, poverty and to inspire more at-risk youth to consider business and entrepreneur opportunities in a robust sports industry. Some of these opportunities include sports agents, scouting, team ownership, team operations, sports apparel design and manufacturing, and coaching, just to name a few."
JFF's strategic mission is to maintain programs that command collaborative community and corporate partnerships fostering lasting change in the lives of at-risk Tampa and Washington, DC youth. JFF is currently offering free membership opportunities to fans and local community leaders to foster community team building and partnerships. Membership benefits include discounts to JFF's special charity events, corporate gala dinners, youth summits, random ticket giveaways for home games, eligibility to serve on advisory committees, and professional networking opportunities.
"We look forward to building unconventional partnerships with you and our local communities," said Nicole June, JFF Vice President and Executive Director. "Together we can impact the lives of children around the world, one child at a time."
The event will be produced by Highsmith Branding Group, Inc. and June Family Foundation, Inc. Join their membership team today, together we can make a world of difference. For free JFF membership and 59 Academy® Program information, visit
www.junefamilyfoundation.org
. Media inquiries and request for press credentials can be directed to Highsmith Branding Group at (202) 297-2379 or via email at rhighsmith@junefamilyfoundation.org.
June Family Foundation is an independent 501c3 non-profit organization dedicated to collaborative community and corporate partnerships fostering lasting change in the lives of at-risk youth. For more information, visit www.junefamilyfoundation.org
###