Chloe Sunglasses Now Available at Eyegoodies.com
With Chloe's extensive celebrity following, Chloe sunglasses have been showing up all over Hollywood. Many stores already have a huge backordered waiting list for many of the sunglass models. The entire new Chloe sunglasses line is now available at EyeGoodies.com.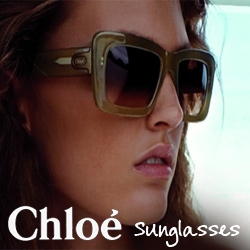 Los Angeles, CA, January 31, 2009 --(
PR.com
)-- Chloe founded in Paris in 1952 by Egyptian-born Gaby Aghion, has always represented a freewheeling bohemian spirit. For five decades celebrities and the style conscious alike have flocked to Chloe for its whimsical mix of street chic and luxury. Its no surprise with retro inspired sunglasses showing no sign of slowing down, the success of the Chloe sunglasses line, and the entire collection is available at eyegoodies.com
Chloe sunglasses, made exclusively in France, are very distinct from all the look-alike sunglasses of today; it takes vintage inspired shapes and infuses them with a new age glamour that fits the season perfectly. Echoing the Ready-to-Wear collection , the chloe sunglass collection skillfully plays with shapes and volumes, ranging from retro to aviation, oversized to timeless. Grey, plum, ivory, old pink, marine, or chocolate, the colors always go hand-in-hand with those of the season's look.
Some of our favorite sunglass models include the Chloe CL 2119 Myrte sunglasses, inspired by vintage Ted Lapidus shades, and updated this season with a plethora of new colors, from various shades of tortoise to ivory. Also sure to be a hit, are the Chloe CL 2172 and Chloe CL 2173 sunglasses from the Chloe Heloise line. Its temple emblems are reminiscent of the Heloise best selling bag.
With Chloe's extensive celebrity following, the sunglasses have been showing up all over Hollywood...and selling quickly with many stores already having a waiting list for many of the Chloe sunglass models.
Shop
Chloe Sunglasses
Read full
Chloe Sunglass Review
###
Contact
EyeGoodies.com
Amanda Pierce
646-505-9310
www.eyegoodies.com

Contact