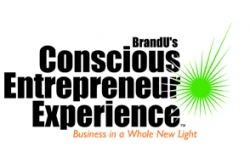 Los Angeles, CA, February 19, 2009 --(
PR.com
)-- BrandU's Conscious Entrepreneur Experience at the 7th Annual Los Angeles Conscious Life Expo was standing room only this past weekend with its unconventional conscious business-building workshop by featuring an opening stand-up comedy act, melodic sounds of a live musical guest, and an entertaining TV talk show format of candid interviews with multi-million dollar conscious entrepreneurs.
"With all the presenters and exhibits featured at the 2009 Conscious Life Expo, we are thrilled to have had such well-respected brand creation experts like the founders of BrandU™," said Conscious Life Expo founder Robert Quicksilver. "The content shared and the 'talk show' format of this mini event had never been done before, and we were excited to take part."
The one-time only entertaining business building experience was produced and instructed by conscious business experts Kim Castle and W. Vito Montone, co-creators of BrandU™, a business creation company providing entrepreneurs the steps to develop a business from idea to brand to market. The production was captured by the award-winning Unconventional Media, LLC under the direction of television director Eric Mofford.
A huge departure from the typical workshop format, this interactive, content-rich edutainment event showed attendees the ideology of harnessing the natural elements of success with practical business building principles, in harmony and balance with one's own soul.
"Kim and Vito are shining examples of what it means to bring consciousness, heart and spirituality into the business world, and still be super business savvy," said attendee Mari Smith, Relationship Marketing Specialist & Social Media Business Coach.
Most unique to the event was the TV talk show format that featured irreverent and witty interviews with multi-million dollar conscious entrepreneurs Joe Sugarman, Marcia Miller and Spike Humer by former celebrity interviewer Kim Castle.
"We could not have been more honored to have had these three, incredibly talented, successful and conscious entrepreneurs share their real stories," boasted BrandU™ co-creator Kim Castle. "It has been our vision to combine a live entertaining television experience with interactive exercises for an event that not only inspires but also provides tangible steps to creating the business of one's dreams. These entrepreneurial star guests played a vital role in the high degree of caliber it held."
With more than 35 combined years of working with entrepreneurs and influential brands like Disney, General Motors, Domino's Pizza and Wolfgang Puck, Castle and Montone address that with the current volatile economic status, many small businesses and entrepreneurs are failing, or at best struggling to keep their businesses afloat. This is greatly heightened in those business owners who wish to make a difference in the lives of their customers and the world.
"Most conscious entrepreneurs typically are exposed to the practical skills necessary to thrive in their business while concurrently channeling their powerful passion and faith in the Universe," commented BrandU™ co-creator W. Vito Montone. "It seems they feel that something has got to give. That is simply not the case."
To learn more about BrandU™ and the Business Profit System, visit www.BrandU.com.
About BrandU™: BrandU™ is the creator of the world's only process-based, results-driven, Integral approach to business creation supporting entrepreneurs from idea, to brand to market. Visit www.BrandU.com.
###