Feat First Inc. Unveils Trailer-Less Touring Accessory
Combining a rugged case with a proven mounting system, TUFFLINX delivers a clever solution for riders seeking additional cargo space.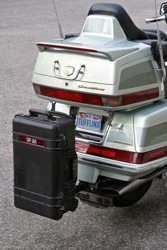 Wilmington, NC, March 17, 2009 --(
PR.com
)-- TUFFLINX (a modified Pelican® case) mounts securely onto a bike/auto hitch receiver without ever touching the ground. This innovative "hitch-holster" attachment method is the same system utilized by its predecessor, the much larger AUTOLINX, which debuted in 2003. That's where the similarities end.
TUFFLINX is compact…a ("carry-on" size) luggage piece complete with wheels and retractable handle. It sports a pressure equalization valve that keeps moisture out and prevents vacuum lock for easy opening at any altitude. The case also features stainless-steel padlock protectors to defend against cutting and theft.
The case and its attachment were logical partners, says company President, Ron Hesmer: "With Pelican® we achieved unparalleled quality in a waterproof case...From there it was just a matter of incorporating our 'hitch-holster' system."
TUFFLINX cases are available in single- or tandem-mount configurations with optional hitch adapters. It comes backed by a 2-year limited warranty and is available online (
www.trailerless.com
) and through select retailers nationwide. MSRP $295.
###
Contact
Feat First Incorporated
Ron Hesmer
877-545-3277
www.trailerless.com

Contact