Jaguar Luxury Adopts a New Strategy to Survive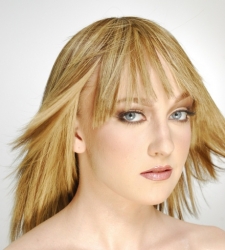 Philadelphia, PA, March 17, 2009 --(
PR.com
)-- East West Beauty and Hair Group, LP, a Philadelphia, PA based manufacturer and importer of hair extensions, color cosmetics and beauty accessories tweaked its business model to stay alive and thrive in the economic crisis. While experiencing a slow down in sales during the months of May and June 2008, East West quickly changed its business model in July 2008 and have seen sales rise ever since.
The China Advantage (Small company with big price savings)
East West Beauty and Hair Group, LP manufactures and imports human hair extensions for fusion and weaving, color cosmetics (lip gloss and eyeshadow) and 100% human hair lace wigs. All of its products bear the company's brand, Jaguar Luxury. Since 2007, East West's business model was to sell to salons and beauty supply stores that sold to the end consumer. But with such a tight economy and retail sales down everywhere, except for Wal-mart, Briggs, chairman of East West changed the business strategy to a Wal-mart like strategy; "..sell directly to the end consumer at the lowest price possible." All of the company's products are manufactured in China, therefore, they can compete on price against any of the biggest players in the beauty business.
"Many of the retail stores we called upon were not interested in investing in a new brand. So we decided to sell directly to the public over the internet and at beauty shows at wholesale prices." A 4 ounce pack of 10 inch 100% human remi hair sells for about $60 to $70 usd at a beauty supply retailer. The retailer pays about $35 to $40 usd for it from the manufacturer (East West). A 100% human remi hair lace wig that sells for $499 to $699 on the internet can be had by an online registered member for $299. So we now sell it directly to the consumer for the price the retailer pays for it. Something other retail beauty store just can't match. A comparison of Jaguar Luxury's online prices for registered members and your typical retail supply store prices reveal that Jaguar Luxury is on average half the retail price. A strategy that has been working since its adoption in July 2008. By opting for the non-traditional route to reach the consumer, we don't have to give net 60 terms to retailers that may be tettering on insolvency.
Changing Economy requires Changing Business Strategy
"The rise in gas prices kept most of our customers from driving to our showroom in West Philadelphia (4235 Lancaster Avenue). It also made them look for the lowest price and the best price/value products available. Just the other day, a customer from London, England placed an order for 6 packs of hair. It would cost her over 500 usd there. But with us, it cost less than 200 dollars. She saved over 300 dollars. Still worth it after transportation cost." While consumers are still spending, they are only parting with there money after they are convinced that what they are buying is a good bargain. The product pricing is so enticing that many of Jaguar Luxury's registered members tell friends about the exceptional prices available.
Squeezing the fat out of beauty margins
Beauty products have extremely high markups. Our strategy is to eliminate the high price of most beauty products by (1) selling direct to the consumer and (2) utilizing the internet to attract and sell directly. Our competition has thousands of retailers, hundreds of district sales people, and tens of distributors in the food chain. They can only bring their prices down for a season or it will begin to hurt all along the food chain. However, we can beat our competition's price everyday by 50%. In this economy everyone is looking to save money. "I read about how December was a dismal month for retailers. Our numbers were up. Our margins were good. It was scary to be doing so good when everyone else is falling off a cliff. In fact, our numbers were so good, we started advertising in a national beauty magazine in December 2008. Our January was downright astounding."
Looking out of the box for financing
The tough credit markets have made it virtually impossible to find financing from a commercial bank in the United States. So Briggs has decided to go to China in search of working capital. Because East West has been doing business in China for more than 2 years, it has built a relationship (guanxi) with its supplier. "Chinese manufacturers are experiencing the effects of the slowdown in the world economy. When we started, we had to pay up front for our raw goods. Now we don't have to do that with all of our suppliers. They know us." A frequent traveler to China, he has friends and business associates that do business in China and have relationships with Chinese banks and investors. "My thinking is that if they don't want Fannie Mae bonds...maybe they will want a piece of my deal. We want to be the first American beauty company to go public in China."
East West Beauty and Hair Group, LP is a Philadelphia based manufacturer and importer of hair extensions, color cosmetics, lace wigs and beauty accessories. Since the conception of The Jaguar Luxury brand in January of 2007, the company has been establishing its brand and lifestyle philosophy for women in the United States. The Jaguar Luxury brand equates to high quality beauty products designed to make a woman feel sexy and sophisticated. Our belief is that women bring beauty and style to the world. So she deserves beauty products that help her feel beautiful and stylish whenever she desires.
Contact Information:
Terry Briggs, Chairman
East West Beauty & Hair Group, LP
4235 Lancaster Avenue
Philadelphia, PA 19104
Phone: 215.382.1523
Fax: 215.387.0893
www.jaguarluxuryremi.com
###
Contact
East West Hair and Beauty Group, LP
Ceshia Holland
1-877-382-1523
jaguarluxuryremi.com
store@jaguarluxuryremi.com

Contact